Priest 'spat on' as Orange Order march went past church
Police are investigating the incident outside St Alphonsus Church in the Barras, Glasgow.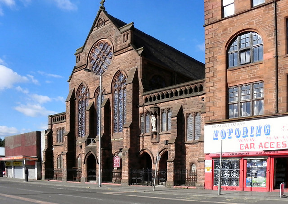 A priest has reportedly been spat on outside a Catholic church in Glasgow as Saturday's Orange walk went past.
Police confirmed they are investigating the incident at St Alphonsus Roman Catholic Church on London Road in the Barras at around 4.20pm.
The Orange Order march got under way on Saturday morning, with an estimated 4500 people marching through the streets of the city joined by 4000 spectators.
In total, four arrests were made over the course of the day unrelated to the alleged incident in the Barras.
The Archdiocese of Glasgow said Canon Tom White had been speaking to parishioners outside St Alphonsus Church in Glasgow when he was spat on twice, before being lunged at by a man with a pole. I
In a statement on Facebook, the Archdiocese claimed that both Canon White and his parishioners had been "subjected to vile abuse".
It said: "The priest was spat upon. Spittle landed on the back of his head. He wiped it away. Another mouthful of thick spittle was spat into his eye socket. Again he wiped it away leaving his hand full of the vile liquid.
"He was then further insulted and lunged at by a man carrying a pole before police arrived to restore some kind of order."
The Church added: "What kind of society is it that allows ministers of religion and churchgoers to be intimidated and attacked by a group which has a long history of fomenting fear and anxiety on city streets?
"Why is the Orange Order still allowed to schedule its intimidating parades on streets containing Catholic Churches at times when people are trying to get in and out for Mass?"
Last year's Orange Order march in Glasgow also came under scrutiny after footage emerged showing anti-Irish sectarian singing.
Police said the priest was not injured and stressed they have not yet established a link between the incident and the march.
A spokeswoman for the force said: "We can confirm we are investigating the alleged assault of a man outside a church at the Barras at around 4.20pm on Saturday.
"He was not injured and enquiries into the incident are at a very early stage and are continuing."
She added: "Whilst the parade was going past at the time, any link, if at all, between the alleged assault on the man and the Orange walk has yet to be established."
Scottish Conservative MSP for Glasgow, Annie Wells, said: "This was a shocking attack against a respected member of the local community.
"Police Scotland must move quickly to identify those involved and bring charges. This abuse will not be tolerated in Scotland."
Labour's communities spokeswoman Monica Lennon said: "Father White has shown great courage in speaking out about the attacks he has experienced, for which there can be zero tolerance."
She added: "Anti-Catholic hate crime remains prevalent in Scotland, accounting for 57% of religiously aggravated charges in 2016-17.
"Our communities are safer for us all when we respect one another and value different backgrounds.
"Scotland must do better and it is right this has been brought to the First Minister's attention."
Justice secretary Humza Yousaf said: "These are extremely concerning reports and it is right that they are being investigated by Police Scotland.
"I am confident the police will treat this case with the seriousness it deserves.
"Scotland is a diverse, multicultural and tolerant society and any form of hate crime is completely and utterly unacceptable to me and the vast majority of Scots.
"There can be no justification for bigoted or intimidating behaviour and the Scottish Government is determined to ensure people are able to worship and go about their business without fear for their safety."
Download: The STV News app is Scotland's favourite and is available for iPhone from the App store and for Android from Google Play. Download it today and continue to enjoy STV News wherever you are.