Parents of M9 crash victim in emotional quest for answers
Andrew and Diane Bell's daughter Lamara was not found by police for three days.
The parents of a woman who died after being left in a crashed car for three days have spoken out about their heartbreak and their quest for answers three years on.
Lamara Bell, daughter of Andrew and Diane Bell, was 25 when she was involved in a crash on the M9 in Stirlingshire in July 2015.
She and her boyfriend John Yuill, 28, lay undiscovered for three days despite a witness to the collision reporting it to police.
The car was eventually found by a farmer who raised the alarm after spotting it in his field.
By the time assistance arrived, father-of three Mr Yuill was already dead and mother-of-two Ms Bell later succumbed to her injuries in hospital.
Mr and Mrs Bell sat down with STV News to give for the first time an emotional, detailed account of their experiences around their daughter's death and events since.
They describe being told she had been found and taken to Glasgow's Queen Elizabeth University hospital, at which point all they knew was "there had been a crash".
After visiting her, the couple decided to return home to Falkirk to keep Lamara's young children Alysha and Kieran - Mr and Mrs Bell's grandchildren - updated.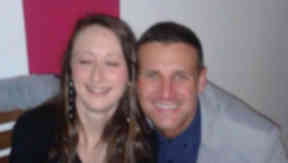 They were also asked by hospital staff to "pick up a brush and some dry shampoo" to make the 25-year-old "a wee bit presentable", Mr Bell recalls.
"We came through to Falkirk, we picked up all the stuff, and we were having showers and things like that," he describes.
"And next thing, I got a phone call from Martin (their son and Lamara's brother) who said: 'Dad, she's dying.'"
He continues: "We rushed through back to the hospital and we went into the ward and we knew from then on we were saying cheerio to our child.
"I was on my tablet, and on my tablet I had music, Motown, and we left it on quietly beside her ear. I can't listen to Motown any more."
Nurses in the ward then asked Mrs Bell if she wanted to lie in bed with her dying daughter.
"We lay in bed beside her until she passed away," she recalls.
"You just wouldn't get out that bed, would you?" Mr Bell replies to his wife.
"You were saying about how much you loved her... I remember saying: 'Don't ever think you've disappointed us.'
"And I made a promise to her, whatever happened, that I'd look after the kids."
Ms Bell and Mr Yuill's deaths, and the circumstances around how long they were left in the car, have prompted repeated calls for a fatal accident inquiry (FAI).
The latest such call came at the weekend from Scottish Liberal Democrat leader Willie Rennie, who has been raising the case for years.
Rennie wrote to Scotland's top law officer calling for an FAI to be held "at the earliest opportunity".
In a letter to Lord Advocate James Wolffe QC, he insisted an inquiry is needed to prevent a repeat of the "tragic incident".
Mr Wolffe has already made it known that he wants the incident to be "investigated thoroughly".
But Rennie said the families of Ms Bell and Mr Yuill had "waited too long already" to find out what happened.
Mr Bell says he knows "about 1%" of what happened to his daughter, with the investigation into the incident still live.
"That's basically all you hear: it's part of an ongoing investigation, none of your concern," he says.
He admits he has been "a pain" to the authorities, describing how he has become fixated on the case.
"You read up on medical histories, you read up on examinations, you read up on crash scenes," he explains.
"You watch crash scenes, you see how they happen, you judge them in your head, you pin stuff to the walls."
But he praised Rennie for pursuing the matter, saying the Lib Dem leader is "the only person that does anything".
"I owe that man a huge thank you, because he pokes and prods the same as me," Mr Bell says.
"They can slam him and shut him down and all the rest of it, but as long as he's asking questions, we've got a little bit of hope."
A Crown Office spokeswoman said: "Progress continues to be made on the investigation into the incident on the M9.
"The case team and dedicated staff from the specialist victim information and advice service have met with family members and their legal representatives throughout and will continue to keep them informed of any significant developments in relation to the investigation.
"The investigation remains live and as such, it would not be appropriate to comment further."
Assistant Chief Constable John Hawkins said: "Police Scotland has been committed to assisting the Police Investigations and Review Commissioner and Crown Office and Procurator Fiscal Service throughout the investigation into the circumstances surrounding the deaths of John Yuill and Lamara Bell.
"Three years on, our sympathies remain with their families and friends.
"This is an independent process that we, like many others, await the outcome of and so we cannot comment on any details whilst this remains ongoing. The recommendations made by Her Majesty's Inspectorate of Constabulary concerning our contact, command and control centres have been fully implemented and we remain committed to the ongoing review of our arrangements going forward under the scrutiny of the Scottish Police Authority."
Download: The STV News app is Scotland's favourite and is available for iPhone from the App store and for Android from Google Play. Download it today and continue to enjoy STV News wherever you are.