Asylum seeker facing eviction: 'An animal's life is better'
Jutyar arrived in Glasgow in 2015 after a harrowing ten-day journey from Turkey.
An asylum seeker who says he fled Iraq to escape the Islamic State now faces eviction from his home in Glasgow.
Jutyar arrived in the UK in 2015 after a harrowing ten-day journey across Europe in the hands of people smugglers.
He applied for asylum and was given a temporary flat, but when his application was denied last year he was ordered to leave.
With nowhere to go and no family or friends in Scotland, the 34-year-old remained at the flat while pursuing an appeal.
However, Jutyar now fears he could be made homeless after being threatened with legal action.
He is one of at least 300 failed asylum seekers in Glasgow being targeted by Serco, a housing contractor which provides accommodation for the Home Office.
'I don't know what I can do... an animal's life is better than mine.'

Jutyar
"My housing officer phoned me, he said 'you have to sign this letter I bring from Serco'," said Jutyar, who cannot read English.
"I told him 'I don't know what these letters mean, could you tell me or explain to me? I can't sign it because I don't understand'.
"He said 'it's okay, no worry about that, it's nothing, just sign'."
It warned Serco was willing to go to court to have Jutyar removed from his home if he did not leave and said he could face fines.
Jutyar signed the letter but only later discovered what it said, he claims.
"I don't know what can I do," he said. "I don't have any family, I don't know anyone, I can't speak English good – I'm not allowed to do anything.
"My life must look like an animal's life. An animal's life is better than my life."
Meanwhile, Serco is separately issuing letters to 300 of its tenants in Glasgow warning they will be locked out of their homes within days.
Serco has defended the move, saying that while it is "sympathetic", it "cannot continue to provide free housing indefinitely".
Mike Dailly from the Govan Law Centre in Glasgow believes the evictions may be illegal.
'We are convinced that Serco are proposing to act unlawfully and we will be taking cases before the Scottish courts.'

Mike Dailly, Govan Law Centre
"These are very vulnerable families living in our city and they deserve full legal protection to ensure that due process is being followed," he said.
"We have a number of our senior lawyers looking at this right now.
"We are convinced that Serco are proposing to act unlawfully and we will be taking cases before the Scottish courts.
"This is a complex area of law and it's very unlikely vulnerable people can just be summarily evicted in the way Serco propose."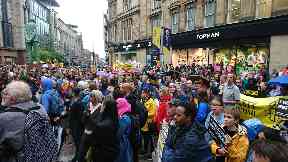 A cross-party group of Glasgow councillors have written to home secretary Sajid Javid urging him to halt the evictions, which they say would have a "severe, detrimental impact" on the city.
Dozens of people joined a demonstration in Glasgow on Tuesday night, while refugee charity Positive Action in Housing has raised concerns for the welfare of people facing eviction.
It has made an emergency appeal for donations to help it cope with the anticipated strain on its services.
Jutyar's story: 'I can never go back'
Jutyar arrived in Scotland nearly three years ago after fleeing to Syria and then Turkey from Kurdistan, a region in northern Iraq.
"There's no safety in Kurdistan, all the time fighting," he said. "Especially when Isis came to take our area."
Jutyar travelled to Syria in August 2014 and remained there for ten months before fleeing to Turkey, where he made contact with a people smuggler through a friend.
After three months they left Turkey together, bound for the UK. They made the 2000-mile journey in four different lorries.
"Each lorry went about ten or 12 hours until they stopped in a place like a forest or a big park at midnight," he said.
"We were told to stay there and wait until somebody came to pick us up. They said: 'one day, two days, three days, you have to wait'."
Jutyar's journey ended at the side of a motorway near Birmingham, where he flagged down a passing police car.
He was sent to Yarl's Wood Detention Centre in Bedford for several days before being given a flat in Glasgow while his application for asylum was considered by the Home Office.
As an asylum seeker he is not allowed to work but has been attending college.
Download: The STV News app is Scotland's favourite and is available for iPhone from the App store and for Android from Google Play. Download it today and continue to enjoy STV News wherever you are.