Nurse suing salon for £1m after hair wash 'caused stroke'
Adele Burns claimed the beauty salon treatment caused a life-changing injury.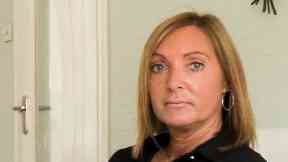 A nurse has started a £1m landmark legal action against a beauty salon over claims a botched hair treatment caused a stroke.
Adele Burns, 47, says she suffered a life-changing injury as a result of her visit to the salon.
Stylists at Rainbow Rooms in Glasgow are said to have washed her hair six times after failing to get the colour right.
However, less than 24 hours later Adele suffered a massive stroke, which medics linked to her head being repeatedly pulled backwards into the salon basin which also allegedly did not have protective padding.
Adele, from Mid Calder in West Lothian, hopes the court action will hold beauty parlours accountable and improve standards to protect the public.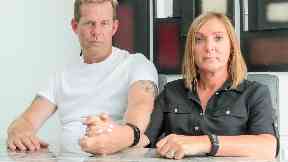 She said: "My life has been turned upside-down from what was meant to be a rare day out.
"With backing from my doctors, there is no doubt in my mind the salon caused the stroke.
"This hasn't just left me isolated from society - I've been isolated from my own body."
The mother-of-two visited the award winning salon for a £200 cut-and-colour on April 21, 2016 as part of a special day out arranged by her husband Campbell, 52.
'My life has been turned upside-down from what was meant to be a rare day out.'

Adele Burns
After the five-hour appointment she left with a headache but put it down to not getting a chance to eat while at the salon.
The following day Adele's condition drastically deteriorated when she lost her sight and felt dizzy out while cleaning the bathroom.
After a few moments she dropped the phone while speaking to her husband and passed out again.
Campbell rushed home and found his wife unable to speak or move and the right side of her face was drooping - he immediately called for an ambulance.
It was confirmed at St John's Hospital in Livingston that Adele suffered a stroke following dissection of the vertebral artery - a clot caused by trauma in the neck which stops blood getting to the brain.
The incident left Adele unable to drive which meant she couldn't work and had to sell their home She also now struggles to speak, read, write and move but is fighting to rebuild her life.
'I just don't want anyone else to experience what is happening to us.'

Adele Burns
Adele added: "A stroke isn't like a physical injury like a leg break where you take time out and heal then carry on as normal - it changes your life and the lives of those around you.
"I've completely lost my independence and I sometimes feel like my life is no longer my own.
"Campbell is my best friend and the right words don't exist to express my love and gratitude for everything he does for me nowadays.
"What makes it harder to stomach is that what our lives have become was avoidable and I'm sure the salon know this too.
"I just don't want anyone else to experience what is happening to us."
Court papers state salon staff did not ask Adele to attend for a "strand test" before her appointment which would have prevented the need for her hair to be re-washed and re-coloured six times.
Documents also accuse the salon of negligence by failing to offer Adele a front-facing sink or provide neck protection during the treatment she received.
Medical reports show there is no history of strokes in Adele's family history along with a CT scan which confirmed the stroke she suffered following the trip to the Glasgow parlour.
Jennifer Watson, associate at Digby Brown Solicitors, said: "A civil action against Rainbow Rooms is underway after our client's life was undeniably altered following her appointment with their salon.
"Thousands of people will seek beauty treatment like this every year and Adele is incredibly brave in speaking out as a way of alerting others to the risks.
"Strokes caused by hair washes are not unheard of as there have been a handful of similar cases across the globe - however I'm not aware of anything similar having called in Scottish courts.
"This claim of negligence will be rigorously pursued but as it is ongoing it would be inappropriate to comment further."
Download: The STV News app is Scotland's favourite and is available for iPhone from the App store and for Android from Google Play. Download it today and continue to enjoy STV News wherever you are.