Pensioner fined for sending racist letter to Labour MSP
Arthur Robertson, 68, sent the mail to the constituency office of Anas Sarwar in Glasgow.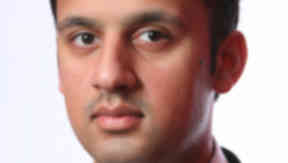 A pensioner who sent MSP Anas Sarwar a letter with racist and offensive comments has been fined £450.
Arthur Robertson, 68, sent the mail to the Labour politician's constituency office earlier this year.
Glasgow Sheriff Court heard he branded Islam "evil" and "demonic" and called Muhammad derogatory names.
He also referred to the Qur'an as "a jumbled rambling book of scientific and historical inaccuracies".
Robertson, from Dunfermline, Fife, pled guilty at Glasgow Sheriff Court to sending Mr Sarwar the letter on February 27 which contained offensive, abusive and racist remarks.
The police were contacted after Mr Sarwar received the letter at his office on Paisley Road West, in February this year.
Robertson signed the letter from himself.
It was said on behalf of Robertson has been very naive and appreciates "he was wrong to use the language he did".
The court heard he was "trying to reach out in his words" to Mr Sarwar.
And the background report the sheriff called for noted that Robertson "doesn't hold any obvious racist views".
Earlier this year, it was reported Mr Sarwar said he wants to "shine a light on Islamaphobia".
Mr Sarwar lost out to Richard Leonard in last year's leadership campaign and claimed he was the subject of racism comments by a fellow councillor, but did not name them.
Speaking in January, he said: "A leader of a Labour council group told me very clearly the reason that he couldn't support me in the leadership election was that, in his words, Scotland wasn't ready for a 'brown, Muslim Paki'.
"When I challenged him on that, saying it was a racist, Islamophobic comment, he said that wasn't his opinion, it was his fear about what his constituents believe."
Last month, Mr Sarwar tweeted he had abusive words shouted at him as he gave an interview.
He wrote: "Just had someone shout 'P**i b*****d' in my face whilst doing an interview on (ironically) racism and Islamophobia standing by the River Clyde.
"Not experienced such blatant in your face racism like that in years. What's going on in the world!"
Download: The STV News app is Scotland's favourite and is available for iPhone from the App store and for Android from Google Play. Download it today and continue to enjoy STV News wherever you are.