Asylum seeker eviction proceedings dropped by Serco
A separate legal case intended to halt the eviction of 240 Glasgow asylum seekers is also underway.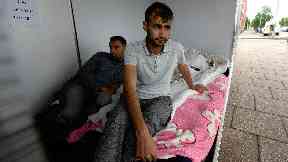 Eviction proceedings against an asylum seeker and her partner by Home Office contractor Serco have been dropped.
Govan Law Centre said the company had confirmed the move in a letter.
But solicitor Mike Dailly said the test case will still call before the Court of Session on Tuesday so legal principles can be debated.
Earlier a separate Shelter Scotland legal action intended to halt the eviction of 240 Glasgow asylum seekers with just seven days notice was launched.
It came a week after housing provider Serco started issuing letters to tenants warning their locks would be changed if they did not leave willingly.
But it has temporarily put those plans on hold following legal challenges from Shelter and the Govan Law Centre.
Papers seeking interim orders blocking the evictions were presented at Glasgow Sheriff Court by Shelter on Monday morning.
All of the affected tenants have overstayed in their flats, which were paid for by the Home Office until their asylum applications were turned down.
Serco has said six tenants already served with lock-change notices will be given an extra 21 days and no further notices will be issued.
Another 88 tenants who have already been granted refuge in the UK have been served with separate eviction notices but are not believed to be at imminent risk.
Meanwhile on Monday night Mr Dailly confirmed the latest development.
He said: "Serco's lawyers have written to GLC this evening to formally confirm that no eviction proceedings will take place against our client and her partner.
"Accordingly there is no need for an interim interdict hearing at the Court of Session tomorrow morning in Edinburgh, but our client's court action will proceed in terms of the legal principles in dispute."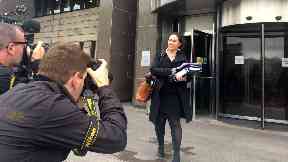 But Mr Dailly said his client remains at risk if her support comes to end in the same way as the other 330 asylum seekers under the threat of eviction in Glasgow.
And he has criticised the 21 days' grace given to the six asylum seekers issued with eviction notices last week.
A statement from the centre added: "GLC's point is that there is no possibility that this complex legal dispute can be settled authoritatively within 21 days.
"This is why we are calling on Serco to put all asylum seeker DIY lock-change evictions on hold until the Court of Session can rule on this issue."
It also thanked campaigners, housing associations and politicians who have lobbied to defend the rights of asylum seekers.
Shelter Scotland director Graeme Brown said: "Our clients are actively working with immigration lawyers to resolve their asylum claims.
"Interim orders temporarily stopping the lock changes will allow this work to continue with our clients having a home to live in."
Serco said it "welcomed" the legal challenge and said it believes its plans to evict all 240 tenants in stages over the next few months were "fully within the law".
It claims to have spent around £1m housing them over the last year without support from the Home Office and said it has been subjected to "vile abuse" over the evictions.
People whose applications are rejected no longer receive assistance but cannot be deported while they appeal the Home Office's decision. Around half of asylum decisions are overturned on appeal.
Newly-appointed justice secretary Humza Yousaf said the Home Office's "cruel" immigration policies requires an "injection of humanity". It follows similar criticism from the First Minister.
"There is clearly a desire from the people of Glasgow that they are happy for asylum seekers to make Glasgow their home," he said.
"That is why we call on the Home Office to take a much more humane approach to government.
"The UK Government could change the legislation around this, if they don't want to do that we've often said as the Scottish Government they should hand the powers over immigration and asylum to the Scottish Government."
Download: The STV News app is Scotland's favourite and is available for iPhone from the App store and for Android from Google Play. Download it today and continue to enjoy STV News wherever you are.