New home for UK's biggest puppy left in Glasgow dog centre
Arnie the Great Dane is only five months old and already tips the scales at a whopping 43kg.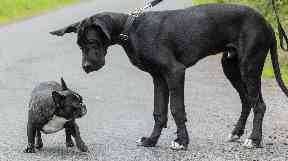 He already weighs more than a baby hippo but rescue dog Arnie hasn't let his size get in the way of finding happiness.
The real life Scooby-Doo, described as the biggest puppy in Britain, was left at a Glasgow dog centre but has already found new owners to adore him.
Arnie the Great Dane is five months old, over 6ft tall and already tips the scales at a whopping 43kg (95lbs) - and he is still growing.
He is the biggest puppy the team at Dogs Trust in Glasgow have ever cared for, but his size certainly didn't put off his new parents.
Julie and Colin Reid and their son Josh from Stonehouse, South Lanarkshire have adopted him.
"When we went in to have a look at him it was just love at first sight," she said.
"He is gentle, loving and so playful; he will definitely fit in at home, we are just relieved we have a big enough home to accommodate our new baby hippo.
"He's just a big lovable rogue."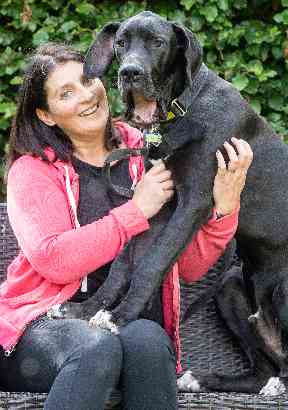 Julie and her family have four other dogs, including a Dogue de Bordeaux, two Chinese crested dogs and a French Bulldog.
She said: "We've always fostered and have had Dogue de Bordeauxs which are medium to large dogs.
"It's so funny taking them for a walk because they're so different in size.
"Arnie's just a puppy but is so big already, I've no idea what he's going to be like when he grows up."
Dogs Trust said Arnie was handed in to them by a family who said they had suffered a change in personal circumstances.
His vet records showed the first time he was weighed at eight weeks he was 10kg (22lbs).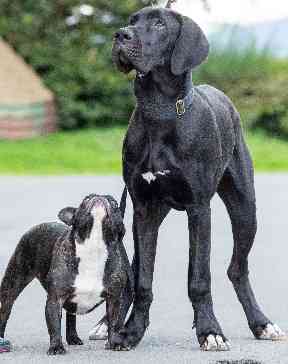 Arnie, who according to Dogs Trust is big for his age and could potentially double in size as he gets older to a hefty 90kg, eats a kilo-and-a-half of raw meat per day, along with fish, egg and vegetables.
Luckily his new owners have an acre of land for him to bound about in.
Sandra Lawton, rehoming centre manager at Dogs Trust Glasgow said: "We are always overjoyed when a dog finds their perfect someone and we are sure Arnie has gone to a home where he will receive lots of love and care.
"The team can't wait to get regular updates from Arnie's family on all his antics because he is definitely a lap dog at heart and has no idea just how big he is.
"We can't be sure how big Arnie will grow to but, even now, he is still the biggest puppy Dogs Trust Glasgow has ever rehomed.
"We still have plenty of dogs of all shapes, sizes and breeds in our care awaiting their forever homes so anyone interested in adopting a rescue dog should pop down to Dogs Trust Glasgow for more information."
Download: The STV News app is Scotland's favourite and is available for iPhone from the App store and for Android from Google Play. Download it today and continue to enjoy STV News wherever you are.