Teen boxing champion says sport is 'not just for boys'
Brooke Neely from Ayrshire has won three Scottish titles since she took up boxing.
Reporting by Clare McNeill
A teen boxing champion says her drive to succeed in the ring is spurred on by those who tell her "boxing's not for girls'"
Brooke Neely from Ayrshire won a British boxing title after defeating the English national champion.
The 13-year-old also made history when she became the club she trains at in Irvine's first ever female champion.
At nine years old, Brooke begged her parents to let her box.
Since then she's won three Scottish titles and been named the British Schoolgirl champion, after defeating the English champion.
Brooke says: 'My pals at school are like horse-riding and dancing and then there's me boxing all the time, every day.
"Some people tell me I shouldn't be boxing because I'm a girl but I just say 'well, I can do what I want'."
The St Matthew's Academy pupil was 12 when she triumphed at the 2018 GB Three Nations Championships in Cardiff, beating Maddie Gittins from St Paul's Boxing Academy in Hull - the same club that produced 2012 Olympic Champion Luke Campbell.
Her opponent was 14 months older than her.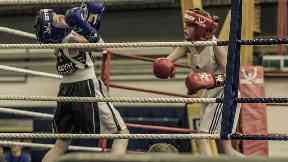 On her title fight, she recalls: "I was nervous at the start when I first went in and it took me like a round just to understand and work out what kind of fighter she was.
"Then after I won I was really happy, I was buzzing. I was nearly crying. I was just believing in myself all the time."
Juggling school with training five nights a week and with the Scotland squad at weekends takes immense dedication at such a young age.
Her parents though reluctant at first, say they're always in her corner.
Her father Martin said; 'We are so proud of her. It's amazing for a wee girl at that age to be so good at a sport.
"I was a bit reluctant at first cause you didn't really hear of girls being in it, you don't want your wee girl coming and getting hit, and coming home with black eyes.
"But we tried her at it and she loves it, she's never looked back.
"Sometimes you get nervous, that's just natural, but you're always rooting for her."
Coach Alex Mullen who runs the Irvine Vineburgh Boxing Club said he knew almost immediately that Brooke had talent.
"A boxing coach knows quite quickly when someone comes through the doors, starts training, how good they're going to be.
"In Brooke's case, that was right away. I knew she was going to be something special.
"She was the only girl in the club and she wanted to spar with the boys. She was a fit wee lassie for nine years old."
"Some people tell me I shouldn't be boxing because I'm a girl but I just say 'well, I can do what I want'."

Brooke Neely
He also says he hopes Brooke's achievements inspire more girls to take up the sport.
"There's a lot of misconceptions about boxing that it's just for boys, a boys sport, a man's sport.
"Mothers watch the Rocky films and don't want their girls involved in that but that's not realistic, it's dramatised.
"But girls are getting involved now. Commonwealth Games, Olympic Games, the girls are making a name for themselves.
"I'd love to see more girls coming along to the club and taking up boxing training."
Brooke hopes to one day qualify for the Olympics and says she's determined to become a professional boxer, compete at the highest level she can and win world titles.
Download: The STV News app is Scotland's favourite and is available for iPhone from the App store and for Android from Google Play. Download it today and continue to enjoy STV News wherever you are.