Home Office's injection room refusal 'endangering lives'
Glasgow MP Alison Thewliss calls on the home secretary to visit Glasgow to talk to addicts.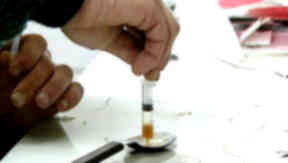 The Home Office's refusal to allow a safe injecting room to be set up in Glasgow has been slammed as putting "party political dogma ahead of people's lives".
Glasgow Central MP Alison Thewliss called on home secretary Sajid Javid to visit the city and talk to addicts who she said would benefit from such a centre.
The SNP MP was speaking at the party's conference in Glasgow, where delegates overwhelmingly backed a motion calling for the UK Government to grant permission for a safe injecting room, or devolve the necessary powers to do so to Holyrood.
Cross-party calls for an injection centre in Glasgow intensified after 280 of the 934 drugs-related deaths in Scotland were recorded in the area in 2017, along with a spike of HIV infections among users.
While policing and prosecution around drugs is devolved to Scotland, Westminster has ultimate control over drug laws, and UK ministers say the Glasgow proposal is illegal.
The safer drug consumption facility (SDCF) was planned for Scotland's largest city, where an estimated 400 to 500 drug addicts are injecting on the streets.
It proposed to allow drug users to inject or smoke their own heroin without fear of arrest in the SDCF, effectively decriminalising use of the class A drug while inside its walls.
Medical staff and drugs counsellors would have been on hand.
Thewliss told SNP delegates: "We have a problem here and we have a solution and the home secretary will not let us act to save the lives of vulnerable drug users.
"It's an absolute disgrace, it is despicable to put party political dogma ahead of people's lives."
She said an SDCF would "not be a shooting gallery as some have suggested" but could instead allow addicts to "get them the help they very much need".
The MP added: "Glasgow already has drug consumption rooms - they're in back lanes in the city centre, they're in abandoned waste ground, in dangerous, derelict buildings and in bushes and boardings near to my constituency office.
"And in weather like this, when its tipping down outside, they are in filthy bin sheds and residential closes.
"They are in public toilets and in any space where people desperate for a fix can find that tiny bit of privacy.
"People do this regularly and they take risks every time they do so, of infection, overdoes and death.
"This is not acceptable in the Scotland we wish to see, we can and we must do better."
She asked party members to join her to "beg of the home secretary to come here, to listen to the people of Glasgow, to listen to the people who need this facility desperately".
Knocking back the proposals last year, a Home Office statement said: "We have no plans to introduce drug consumption rooms.
"A range of offences is likely to be committed in the operation of drug consumption rooms.
"It is for local police forces to enforce the law in such circumstances and, as with other offences of this type, we would expect them to do so."
Download: The STV News app is Scotland's favourite and is available for iPhone from the App store and for Android from Google Play. Download it today and continue to enjoy STV News wherever you are.