Children's home run like 'military institution' inquiry told
A man who was sexually abused at the home said that physical abuse was 'normalised'.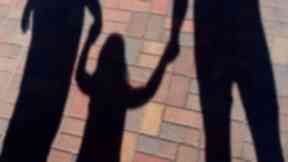 A man who was sexually abused at a children's home in Renfrewshire in the 1970s has said that the facility was run like a military institution.
David Whelan, who waived his right to anonymity, was speaking at the Scottish Child Abuse Inquiry in Edinburgh on Friday.
He lived at the home from the age of 11 and was abused regularly.
At the inquiry, Whelan spoke of physical and emotional abuse he suffered at the hands of others which involved him being beaten with a "military parade" baton, a belt and being told he was unwanted by his parents.
He also said that strict rules and carers who were violent left him "petrified".
He said: "This was supposed to be a care home. From start to finish it was like being in a military establishment.
"They used derogatory language just to demean you, to belittle you.
"There was no affection. It was like from a Victorian era, where the child was seen and not heard."
The witness described how physical abused was "normalised" and went unchallenged by those in higher authority at the orphanage.
He added: "Bruises heal, but what happens with the psychological stuff is it stays with you.
"It was brutality and cruelty."
Whelan also spoke about his belief that there was a paedophile ring operating out of the children's home.
He said: "I just wonder if there was a paedophile ring operating out of Quarriers, with some former residents."
The late-19th century development consisted of dozens of orphan homes which were run by "house mothers" and "house fathers".
In 2002, John Porteus was convicted of sexually abusing Whelan while in his care.
Other alleged abusers cannot be named for legal reasons.
The inquiry was told that punishment also included hair-pulling and being made to stand outside in a shed, sometimes until dawn.