Celtic express 'deep regret' over Jim Torbett sex abuse
Statement released after Boys Club founder was convicted of abusing young players.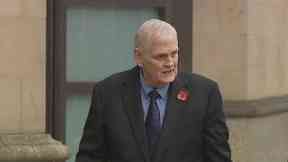 Celtic have expressed their "deep regret" after the founder of Celtic Boys Club was found guilty of sexual abuse.
Jim Torbett had denied abusing two former youth players and another boy between 1986 and 1994.
But the 71-year-old was convicted at the High Court in Glasgow on Monday and jailed for six years. He was also placed on the sex offenders' register indefinitely.
Following the conviction the club released an official statement which said: "Following the conviction of Mr James Torbett at Glasgow Sheriff Court, Celtic Football Club wishes to express our deep regret that the incidents took place and sympathy for the victims who suffered abuse.
"We are grateful for the courage of those who have come forward to report abuse and to give evidence after such a long period of time.
'Although Celtic Football Club is an entirely separate organisation, we have always taken these allegations extremely seriously.'

Celtic Football Club
"We have great respect for them and their families as they continue to cope with the distressing effects of the abuse they suffered.
"Allegations regarding abuse at Celtic Boys' Club first emerged in the 1990s.
"Although Celtic Football Club is an entirely separate organisation, we have always taken these allegations extremely seriously because of our historic contacts with Celtic Boys' Club.
"All investigations by the police and other inquiries were given our full support.
"We encouraged any individuals involved to report all information to the police so that matters could be investigated fully.
"Celtic Football Club continues to encourage any victim of abuse to report these crimes to the police.
"After the allegations became known in the 1990s, Celtic Football Club took steps to develop a new code of conduct and procedures to protect young people.
"Since then, Celtic Football Club has been at the leading edge of putting welfare and safeguarding protections in place for our young people.
"We were the first club in Scotland to appoint a safeguarding officer, developing policies for the protection of young people and monitoring and reviewing our procedures to ensure they continue to reflect best practice.
"The abuse of children is an issue affecting many areas of society, including a large number of football clubs, sports clubs, youth organisations, educational institutions and religious bodies across Britain.
"Celtic Football Club strongly believes that children and young people involved in football have the right to protection from all forms of harm and abuse and is committed to ensuring this and to promoting their wellbeing through continued cooperation with our children and young people, parents and carers and the relevant authorities."
'Celtic Football Club continues to encourage any victim of abuse to report these crimes to the police.'

Celtic Football Club
Club manager Brendan Rodgers added: "The club have made a statement on that and I think that's as far as what I would say on it.
"It's something that sits outside of me.
"Of course, there's always my empathy and sympathy for victims of any charge against anyone but certainly from the club's perspective they've made the statement and at this moment it's all we would say."
Torbett was previously jailed 20 years ago for abusing young footballers.
The 71-year-old - who had been living in California - was charged in 2017 following fresh allegations of sex attacks.
He targeted two teenagers, including one who worshipped him as a "hero", and abused a five year-old boy at a trophy business he once owned.
Two victims gave evidence during Torbett's trial.
A now 46-year-old man told jurors he played for Celtic Boys Club when he was 14. He said Torbett attacked him on a trip to France.
Another man, who played in the team as a young boy, died in a swimming accident before he could give evidence in court. But a police statement given before his death helped secure justice.
The 41-year-old told officers he was first abused in Torbett's car after training and later at his flat.
The final victim, a now 35-year-old man, was abused at the trophy business Torbett ran in Glasgow.
The witness - who was as young as five at the time - was attacked while on his own with Torbett.
Torbett showed no emotion as he was led to the cells after the jury found him guilty of indecently assaulting the first victim.
He was also convicted of lewd and libidinous conduct and indecent assault against the second player.
Torbett was further guilty of the same two charges on the third boy. A further allegation of lewd and libidinous conduct against that victim was found not proven.
Torbett, from Glasgow, founded the club in 1966 when he was around 18 years old.
He told the court they used Celtic's name and played in Celtic strips, but were not connected to the football club.
His first conviction for abusing young players came in 1998, when he was jailed at Glasgow Sheriff Court for preying on three boys between 1967 and 1974.
Janine Rennie, chief executive of the Wellbeing Scotland charity which supports victims of abuse, said Celtic's statement does not go far enough.
She told STV: "We're delighted that Celtic have broken their silence and come out with a statement, but we feel it falls short of what the survivors were looking for, which was a full apology.
"I don't think the survivors ever felt it was a separate club. They joined Celtic because they had a commitment to Celtic as young men. They were looking to move on to the full team. So there was a perception that the Boys Club was part of the main Celtic team.
"While I can see why Celtic are trying to distance themselves, it's not ringing true for many of the survivors."
Ms Rennie said she has spoken to some of those abused by Torbett who are "pretty distressed" by the Celtic statement.
"They want acknowledgement of what happened to them. I think the survivors wanted to see Celtic take responsibility for what happened," she added.
Download: The STV News app is Scotland's favourite and is available for iPhone from the App store and for Android from Google Play. Download it today and continue to enjoy STV News wherever you are.