Two police officers stabbed on duty recognised for bravery
The justice secretary praised officers who protected colleagues despite their injuries.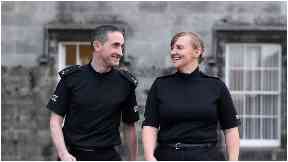 Two "exemplary" police officers who were stabbed on duty have been recognised for their bravery with a top award.
Officers Laura Sayer and Kenneth MacKenzie won the overall Scottish Police Federation Bravery Award for their actions after they were attacked going to a house in Greenock, Inverclyde, on June 1.
They had been called to assist an NHS colleague who was dealing with a mental health assessment.
William Taylor lashed out and stabbed Mr McKenzie several times in the neck and body as he tried to disarm him.
Ms Sayer was also stabbed in the neck and suffered nerve damage to one of her hands, just months after starting with the force.
The Scottish Police Federation (SPF) said the officers continued to try to bring Taylor under control and prevent him from harming two medical workers despite their injuries.
Officer Finlay Dobson also raced to the scene and subdued Taylor until other officers arrived.
Taylor, who appeared in court charged with stabbing the two officers, has been detained for mental health treatment.
The three officers have been recognised by the SPF for their bravery in the incident, following similar recognition at the Police Scotland Bravery and Meritorious Conduct Awards earlier this month.
A total of 22 officers were recognised by the SPF at its fourth annual ceremony.
Justice secretary Humza Yousaf, who presented the awards, said: "These officers are a shining example of the extraordinary acts of bravery and heroism that are frequently demonstrated by our Scottish Police Force but which often go unrecognised.
"When our officers respond to calls, they could have no idea what they might face when they get there. They deal with extremely challenging situations, many of which jeopardise their own safety and yet their priority is to ensure the safety of others.
"I personally commend their bravery and thank each of them for their outstanding service. I am delighted to present this award to these exemplary officers."