Refugee tells of journey to Scotland from Nazi Germany
Henry Wuga was saved by the Kindertransport, which marks its 80th anniversary this year.
A 94-year-old has spoken of his love for Glasgow decades after he fled to Scotland from Nazi Germany.
Henry Wuga was just 15 when he boarded a train in Nuremberg and waved goodbye to his parents, not knowing if he would ever see them again.
His journey had been organised by the Kindertransport, an evacuation programme that brought nearly 10,000 Jewish children living in Nazi-controlled territories to the relative safety of the UK.
This year marks the 80th anniversary of the programme, which Henry credits with saving his life.
He told STV: "Life was fairly normal until Hitler appeared on the scene.
"When, in 1935, the Nuremberg Laws were promulgated we knew this was not good for us, we had to get out of there.
"These Nazis, marching 15 abreast in their brown shirts... you became a Jew, a dirty Jew. It felt terrible.
"My mother and father said, 'we have to go somewhere, we have to leave here'."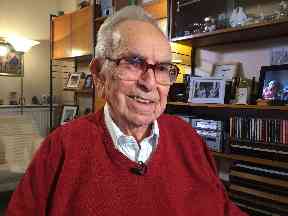 Seeking a way to get her son out of Germany, Henry's mother got in touch with the local Kindertransport committee.
The programme had been established late in 1938 after an appeal by a Jewish charity to the UK Government.
A call for foster homes saw hundreds of British households offer rooms to refugee children, while international networks were quickly established to arrange for the youngsters to be transported across Europe.
Henry left Germany in May 1939, just four months before the German Army invaded Poland, initiating the Second World War.
He told STV of the pain he felt leaving his parents behind.
"To wave goodbye is pretty horrible, not knowing if you'll ever see each other again," he said.
"On this train there must have been 100 or so young children - six, seven, eight years of age - who had never been away from their mother or father before.
"They were crying, they were howling. You can imagine. It was really traumatic."
Henry, an only child who was travelling by himself, said things became easier after the train left Germany.
"Crossing the Dutch frontier, I can tell you, the horror lifted from our shoulders," he said.
"Even as children, we felt, 'we are across the border, we are away from Nazi Germany'."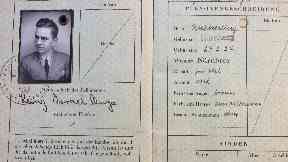 Eventually the train arrived at the port of Hoek van Holland, from where the children were taken by boat to Harwich, Essex. From there, the refugees travelled to London where Henry boarded another train to Glasgow.
Henry was taken in by a woman who lived in Queens Drive in the southside of Glasgow. He recounts tales of being taken to the theatre and to musical shows as he became accustomed to his new home city.
It was in a refugee club on Sauchiehall Street that Henry met Ingrid, a fellow survivor who shared his love of sports, especially skiing. The pair wed in 1944 and have remained in Scotland for their entire adult lives.
Henry said: "I was lucky to have come to Glasgow, as far as I'm concerned, because I love the country, I really do love the country.
"I have good friends here and I love Glasgow. I mean, come on - we're near the sea; we're near the mountains; it's fantastic."
Even today, Henry still remembers his fateful trip out of Germany and the Kindertransport that carried him to his new life.
"I was very fortunate. My mother found room on the Kindertransport. They allowed unaccompanied children to come to this country. It saved my life."
Download: The STV News app is Scotland's favourite and is available for iPhone from the App store and for Android from Google Play. Download it today and continue to enjoy STV News wherever you are.