Turner Prize winner backlash 'what queer people face'
Glasgow-based artist Charlotte Prodger has faced negativity for her iPhone-shot film.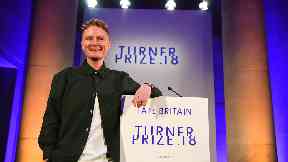 Turner Prize winner Charlotte Prodger has said the backlash against her work is what "queer" people experience every day.
The Glasgow-based artist triumphed at the 2018 Turner Prize for her iPhone-shot film work, with her competitors all using moving image as their mode of expression.
Prodger, 44, has accepted that her work centring on "queer identity" shot on a smartphone will have a backlash from some cultural quarters.
But she has said that the negativity is nothing more than gay people face on a daily basis.
The video artist, born in Bournemouth, won a £25,000 prize for her works Bridget and Stoneymollan Trail, which impressed Turner Prize judges for the perceived timely commentary on identity politics.
The artist does not wish to respond to critics who think her prize may merely be fashionable.
On potential detractors, Prodger said: "I've had it all my life. That's what queer people experience on a daily basis.
"That's what queer people experience on a daily basis.

Charlotte Prodger, Turner Prize winner
"How do I feel about it being modish? I don't really feel like responding to people who make those allegations.
"It's a different level of experience. It's amazing to win the Turner Prize but it's not the be all and end all.
"It's good to keep it real and have perspective on struggles that people are facing.
"That other people are facing around the world."
She added that is is "surreal" to win the award, and suggested that the prize will help her pay her rent, saying: "I will live on it, pay my rent on it, and maybe there will be a little treat."
Prodger was asked about what message her artwork might convey to the viewers of her films, but struggled to provide a conclusive message for audiences, but that her audience is larger.
She said: "I don't know. I'm not sure.
"But one thing about doing the Turner Prize, is it's being a big learning curve for me, I've never put on a show with this amount of visitor numbers."
Quizzed on her plans the future the prize-winner said: "Carry on being normal after this. I like to go and kind of hide."
Former Scottish Turner prize winners
1996: Douglas Gordon
A graduate of Glasgow School of Art, Douglas Gordon was the first Scot to pick up the prestigious prize.
He won in 1996 for 24 Hour Psycho, a rear projected installation of Hitchcock's iconic horror slowed down to two frames a second, meaning the film lasts an entire day.
2005: Simon Starling
The second Glasgow School of Art alumni to win the Turner prize, Simon Starling was honored for his work 'Shedboatshed'.
The piece involved him taking a wooden shed, turning it into a boat, sailing it down the Rhine and turning it back into a shed
Although Starling is English and now lives abroad, he is closely linked to Glasgow after studying in the city.
2009: Richard Wright
Richard Wright moved to Scotland as a child and attended both Edinburgh School of Art and Glasgow School of Art.
Wright decorates architectural spaces with intricate geometric patterns in paint and gold leaf and his paintings are often short-lived and are painted over at the end of the show.
Wright won the Turner Prize in 2009 for his golden fresco on the walls of Tate Britain's second room.
2010: Susan Philpsz
Susan Philpsz, from Maryhill in Glasgow studied sculpture at Duncan of Jordanstone College of Art in Dundee.
A sound artist, she often sings in many of her works, her untrained voice a key element.
She won the Turner prize for her piece 'Lowlands', which was played under three bridges over the River Clyde in Glasgow.
She was the first sound artist to be nominated and the first to win the Turner Prize.
2011: Martin Boyce
Another Turner prize winner hailing from Glasgow, Martin Boyce also studied at Glasgow School of Art.
Well known for his sculptural installations, he won the 2011 prize for his work Do Words Have Voices.
The installation is a recreation of a park in autumn
2014: Duncan Campbell
The most recent Scottish winner of the Turner Prize, Duncan Campbell is from Dublin but graduated from Glasgow School of Art in 1998 and has resided in the city ever since.
Film is his primary medium and he mixes archive footage with new material.
He won the 2014 Turner Prize for 'It for Others', an essay film which explores the value of art.
Download: The STV News app is Scotland's favourite and is available for iPhone from the App store and for Android from Google Play. Download it today and continue to enjoy STV News wherever you are.