Ferry contract 'albatross round shipbuilder's neck'
Jim McColl said Ferguson Marine's bill for two CalMac vessels could run £50m over budget.
A contract to build two ferries has become an albatross around a shipbuilder's neck, owner Jim McColl said.
Construction of the CalMac vessels at Shipbuilder Ferguson Marine's base in Port Glasgow has been hit with spiralling costs and lengthy delays.
Mr McColl estimates the final bill could now be as much as £50m over the agreed budget.
The Glen Sannox is expected to be delivered in the middle of next year, more than 12 months behind schedule.
It is the first of two vessels being built as part of a £97m contract from Caledonian Marine Asset Limited (CMAL), a company owned by the Scottish Government that buys and leases ships to CalMac.
Speaking to STV News, Mr McColl said: "This is a real albatross around our neck.
"If we could just wave a magic wand and get rid of those two vessels that would be a godsend to us because they've just been a headache from day one.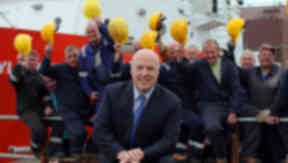 "I think we're probably running between 40-50% over budget which amounts to roughly £40-£50m."
Ferguson Marine has blamed the delay and escalating cost on CMAL making changes to the original design.
Mr McColl said: "We've documented over 600 design changes.
"Now, some of those are down to us, but a good chunk of them that have impacted the schedule and the cost are as a result of changes requested by CMAL.
"The design of the propellers, the ultimate overall length of the ship, we've been changing quite a bit from the beginning."
Mr McColl added: "You would normally expect a lot of design development work to be done prior to a specification going out, but when the specification went out for these vessels, with hindsight there wasn't enough detailed work done.
"We're having to effectively do that development work on the hoof rather than designing out from a well thought through specification.
"In the past CMAL have refused to engage with us in discussions about any changes.
"We get told it's rubbish or similar dismissals just to go away and that's just not the way to conduct a commercial arrangement."
Legal action threatened
Ferguson Marine is threatening to take CMAL to court to pay for the additional work.
The shipbuilder has been working with consultants for four months documenting the changes that have happened and the impact on cost and delivery.
Their claim is expected to be finalised in the next few days, before being submitted to CMAL in the coming weeks.
CMAL insists the work is covered by the original contract, and Ferguson Marine is liable for the additional cost.
However, Mr McColl denies the shipbuilder underbid for the contract.
He said: "We were asked in the invitation to tender to work with the buyer in a collaborative and innovative way, which indicated that we would be working collaboratively through it to overcome issues.
"But the magnitude of the changes that have had to be made are way beyond what anyone could have anticipated at the time of bidding.
"So we did bid what we felt was the right price at the time and we were comfortable we would take on the contract and work through it.
"We have made a number of changes to the design, but the response time to agreeing to those changes has been quite long, so that has dragged out the length of time it takes to build them.
"With what I know now, I would not have taken on that contract because I would have insisted on a lot more development work being done for the spec, but at the time we were looking to put work into the yard."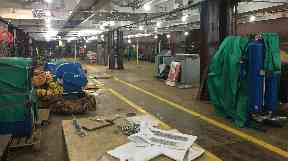 Mr McColl continued: "We bid what we thought was a fair price.
"We wrongly assumed that all of the detailed work that would have to go into the development of a specification had been done.
"It now transpires that that wasn't done in as much detail as we would have liked, and we have effectively been going through a development programme with this first ferry.
"I've never come across any customer that has dealt in such a way with us, just putting the shutters up and saying 'it's your problem, it's a design and build contract, you have to swallow the consequences of all the changes here', not prepared to discuss it at all."
The ferries are the first designed to run on both diesel and liquefied natural gas (LNG).
However, STV News understands they are only ever likely to run on diesel because the routes are not suitable for LNG.
Political row over £45m loan
A political row was sparked earlier this year when Ferguson Marine was given a £45m loan by the Scottish Government.
Opposition parties criticised the handout because of a lack of transparency over what the money was intended for.
Mr McColl said: "We approached the Scottish Government to tell them the pressure that building these two ferries effectively for the government was putting on the company, and saying that it was damaging the business, so we did approach them for help.
"The money has been used to continue bidding for these contracts, but every contract we've taken on since - we've now got a number of boats that we're building, linkspans, other structures - we have bid for them in a cash-neutral way.
"We try and work in that we are cash-neutral through a project."
Jim McColl saved yard from closure
Mr McColl bought the yard in 2014 after it went into administration. It now employs more than 420 people, and the owner believes the outlook is positive.
He said: "We've signed one fishing vessel for a company called Inverlussa, we've got a second one just about to complete.
"We've got two trawlers we're in the final stages of for Shetland and we're collaborating with Babcock on modules for the Type 31 destroyers which will come out next year.
"I think we're well positioned for that because I think Babcock have got the best proposal of the people in the bidding process, so there's a lot of other work out there.
"We're doing repairs to wind farms, we're doing linkspans.
"There's a whole range of work and we've got a mobile workforce that we started from scratch here that already have been around the country doing repairs on boats in different docks."
CMAL's response to Mr McColl's claims
A CMAL spokesperson said: "Ferguson Marine Engineering Ltd (FMEL) is under contract to supply the design and build of the two dual fuel ferries.
"It is an industry standard design and build contract with a fixed price and defined delivery dates.
"FMEL entered into the contract with full and prior knowledge of the specification and terms of the contract.
"CMAL fundamentally disagrees with any assertion that there have been significant design changes to the vessels.
"Minor changes have followed the contractual process and costs for these have been agreed with FMEL.
"These costs have been covered by a 3% project contingency budget held by CMAL."
In summary
Ferguson Marine has a contract to build two ferries for CalMac.
The contract, worth £97m, is with Caledonian Marine Asset Limited (CMAL), a company owned by the Scottish Government that buys and leases ships to CalMac.
Construction has been hit with spiralling costs and lengthy delays. The final bill could be £50m over budget.
Jim McColl, owner of Ferguson Marine, blames hundreds of design changes by CMAL.
He is now threatening legal action to meet the additional costs.
Download: The STV News app is Scotland's favourite and is available for iPhone from the App store and for Android from Google Play. Download it today and continue to enjoy STV News wherever you are.