Dad held in India looks to future year on from release
Billy Irving was jailed in 2013 on weapons charges and was separated from his family.
A former Scots soldier who was held for four years in India says his family and continued public support have helped him cast aside any anger and bitterness about his ordeal.
Billy Irving was part of a group known as the Chennai Six, wrongly jailed on weapons charges.
After a lengthy legal battle, the men were acquitted and exactly one year ago, they returned home to rebuild their lives.
Since his release, being a father is the 38-year-old's main priority back at his home in Paisley.
Prison, he says, robbed him of precious time with his son William.
Four weeks ago the family welcomed a new addition to the family, baby Hector.
Billy said: "William took a lot of pressure off us when I got home, just the way he was. He settled in straight away with me.
His partner Yvonne added: "As soon as Billy was home, in a few hours he was shouting Daddy come here, Daddy do this."
On the December 6, 2017, Billy arrived back at Glasgow Airport more than four years after he was jailed in India on weapons charges.
After years of campaigning by their families, the men won their appeal, were cleared of all charges and were finally allowed to leave India.
Billy said: "I look back at the whole experience now and I think of the good that has come from it.
"To me, to know that there is that many people in the world who care. They have not given up on me since I've come home.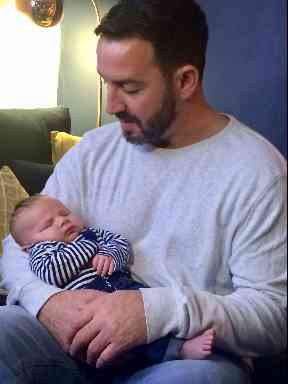 "A year on, people are still making sure we are ok."
Yvonne added: "It was the public support that really got everyone through it and got us thinking we can fight this, look how many people are behind us and we will get him home eventually."
The former paratrooper, was detained with 34 other crew members of the anti-piracy ship, MV Seaman Guard Ohio.
He described his time in prison as "an unbelievable nightmare".
During the four years, Billy contracted dysentery and lost three stone in weight.
"I just hope their policies and legislation changes so that in future, people like Billy aren't stuck in prison with no help and no-one to fight for them."

Yvonne MacHugh, Billy's wife
The six British men's families worked together to lobby politicians and fight for their release, facing delay after delay.
Billy said: "The Foreign office kept changing the goalposts and that was a hard one to take.
"Before I came back to Scotland, I wanted to change things. I thought I wanted to push this but my priority shifted when I was flying home.
"I was sitting there and I thought no, I'll get angry. Family is more important and it was case of getting life back on track."
Yvonne added: "We would be angry forever if we had continue to fight."
The Foreign Office said it worked tirelessly behind the scenes to reunite the men with their families.
Billy said: "I don't think the Indian authorities wanted to take responsibility for what happened. In the end that was proven, all 35 men were acquitted. Twice we were proven innocent by the High Court."
The couple do want to see changes to help others navigate complex legal cases abroad.
Yvonne said: "My view is the Foreign Office definitely could have done more. They did eventually intervene but it took them four-and-a-half years to get to that stage.
"We can't really dwell on it too much now. I just hope their policies and legislation changes so that in future, people like Billy aren't stuck in prison with no help and no one to fight for them."
Billy and Yvonne married in March surrounded by family and friends. They say they remain grateful to all those who sent messages and support over the last five years.
Billy said: "While we were in prison, it was worldwide support. It wasn't just Scotland or UK. It was unbelievable."
Following his acquittal, his lawyer spoke of pursuing compensation for wrongful imprisonment but it's an option the Irvings say they are not considering.
Yvonne said: "That's another legal battle we just cant face. We have had five years of fighting the courts and its too much pressure to put on us on as a family.
"I think we would have ended up quite angry and bitter about it."
Holding his baby son in his arms, Billy agreed: "It's time to let go of it and just move forward.
"I have got my family here. I've got everything I want.
"I'm not saying money wouldn't be nice - the lottery might come in one day - but apart from that we are working, we are healthy and this little guy, Hector is just going to get bigger and bigger.
"Life is good just now. I'm happy."
Who were the Chennai Six?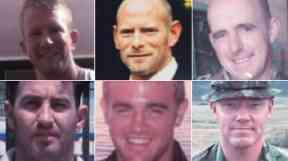 Billy, along with five other British men, had been working as security guards on an anti piracy ship in the Indian Ocean.
In October 2013, they were detained after being charged with carrying unlicensed firearms and ammunition.
Billy was arrested and detained alongside fellow Brits Nick Dunn from Northumberland, Ray Tindall from Chester, Paul Towers and Nicholas Simpson, both from Yorkshire and John Armstrong from Cumbria.
Three Ukrainians, 14 Estonians and 12 Indians were also arrested and charged when customs officials and police searched their ship.
The group, known as the Chennai Six, always maintained their innocence.
Family and friends campaigned for their release, with Billy's partner vocally outspoken about the efforts politicians were making.
The charges were quashed when the men argued the weapons were lawfully held for anti-piracy purposes and their paperwork - issued by the UK Government - was in order.
A lower court reinstated the prosecution, however, and they were sentenced to five years in jail.
They were released in December 2017, with Billy the first to arrive back in the UK on December 6.
Download: The STV News app is Scotland's favourite and is available for iPhone from the App store and for Android from Google Play. Download it today and continue to enjoy STV News wherever you are.