Filmmaker salutes family sacrifice in First World War drama 
Paul Darroch wants to use his grandfather's survival story as the basis for a new film.
The grandson of a Scottish soldier who was saved by the Germans during the First World War is hoping to make a drama inspired by his story of survival.
Filming has already taken place in trenches in Pollok Country Park, which were recreated for the centenary of the Armistice.
Now a search is under way to find backers and possibly find a new location to complete the project in time for this year's Remembrance commemorations.
Paul Darroch's story is based on his grandfather's harrowing real-life war experiences.
The filmmaker said: "It will be a dream come true if we achieve this as this was a story I was told as a wee boy."
Replica trenches were reconstructed in the park by the Digging In project in 2015 and have been used by archaeologists, historians and teachers to help show the conditions soldiers had to endure while fighting on the Western Front.
In the last few months, Paul and his team have also been using them to film his drama, entitled One Night in Flanders.
Paul said: "The drama is basically inspired by what happened to my grandfather and how he tried various attempts to survive through one night.
"What struck me now as a filmmaker was that this story is not only a part of my little-known family history, it also has an incredible cinematic quality."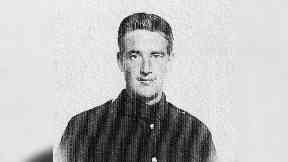 The Great War didn't end for Lance Corporal Henry James Darroch of the Royal Scots Fusiliers when the guns fell silent in 1918.
During fighting the previous year, he was shot just above his heart. He was spotted lying badly wounded in the mud by a German patrol and, after being treated in a field hospital, was held as a prisoner of war in Germany.
It was 1919 before he was finally returned home to Glasgow.
Fast forward a century, and in Pollok Country Park the cameras roll on 'Private Jamie McPherson' and others as they wait for the signal to go over the top.
Actor Lyell Walker said: "This is another story that needs to be told. I feel privileged to be part of this. I don't think I've got the constitution for what those men went through.
"The ones who survived and who were lucky to come back, they were still carrying a lot of the burden of what they saw, all the horrors."
'What struck me now as a film maker was that this story is not only a part of my little known family history, it also has an incredible cinematic quality to it too. '

Paul Darroch, director
A trailer for One Night in Flanders was released last November on the 100th anniversary of the Armistice.
Paul and his team are now fundraising as they hope to find a financial backer to complete the project.
They hope to film a six-part drama series in its entirety over the summer. To do this, they may have to find a new location as the Digging In project is coming to an end.
The public can visit the trenches for one last time on Sunday, February 24. Living history experts will be taking part to talk about demobilisation and life after battle.
Glasgow City Council say the facility will be removed in March and the area of the park will be returned to its previous condition.
But Paul is still hoping the trenches will remain in place for the next few months.
He said: "I think it will be such a shame, especially the amount of detail that you have actually got in the Allied British side and in the German side. I think it would be a travesty if we lost that."
Despite the setback, the team are determined to complete the film for release in the run-up to year Remembrance Sunday.
Paul said: "I'm fortunate to be in a position to be doing something I love with my filmmaking.
"If I can actually get the opportunity to tell this story in addition to that, it will be like Christmas has come again."
Download: The STV News app is Scotland's favourite and is available for iPhone from the App store and for Android from Google Play. Download it today and continue to enjoy STV News wherever you are.