Vodafone boss accused of 'casual xenophobia' after job cuts
'Insensitive' Facebook snap comes after 360 Glasgow staff learned their jobs were being relocated.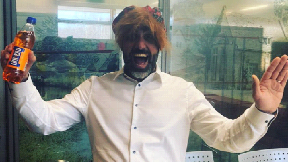 Vodafone has apologised after a senior manager in England was accused of "casual xenophobia" for posing in a See You Jimmy hat on a company social media page.
It comes the day before the telecoms giant will begin informing its workers in Glasgow which of them will have to relocate south of the border or face redundancy.
Vodafone announced at the end of January that 360 members of staff based in the city's Berkeley Square offices would have their jobs shifted to three centres in Manchester, Stoke-on-Trent and Newbury in Berkshire.
One employee on the firm's internal Facebook page suggested UK consumer operations director Antonio Shabbir, who also held a bottle of Irn Bru for the social media snap, had personally delivered the news to the Glasgow staff.
Glasgow Kelvin MSP Sandra White branded the post "both insensitive and offensive", while the company said sorry but insisted "no offence was meant".
Staff were told last month the company was changing its shape in response to competition from rival telecom and technology giants.
The social media post, published on Wednesday by Vodafone's senior transformation manager John Lowe, read: "Getting ready for this month's "Audience with Antonio"... some exciting news to share."
The man pictured, Mr Shabbir, is based in Berkshire and manages 6000 customer services staff across the UK.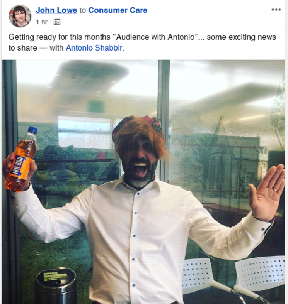 In Facebook replies seen by STV News, one employee responded: "A bit distasteful when our office up in Scotland are being took [sic] away down south... and we are finding out about who's going first tomorrow".
Another said: "Is this really how a professional business goes about its business?
"I'm appalled at this. Here we are in Scotland sitting at our desks waiting to hear news of our pending redundancies and this pops up?
"What's the exciting news? 'We've binned 350+ Scottish members of staff' - I am ashamed today of this organisation and how it conducts its comms around the group... completely tone deaf."
Other Vodafone workers claimed the post - since deleted - was "truly awful" and amounted to "casual xenophobia".
In a further reply, an employee said Mr Shabbir "is the gentleman who delivered the message to the Glasgow staff they would be losing their jobs... I wonder if he will make a guest appearance and apologise to the Glasgow staff?"
A Vodafone UK spokesman said: "It was an internal event. No offence was meant and we apologise unreservedly."
SNP MSP for Glasgow Kelvin, Sandra White, added: "With Vodafone bosses sitting down with staff in Glasgow this week to announce widescale job losses, this appalling post from a company director is both insensitive and offensive.
"This ill-timed post shows a total disregard for the extremely serious situation that staff members and their families now face.
"It's a real kick in the teeth for the employees at Berkeley Square - Vodafone has a responsibility to rectify the situation and issue an apology to each and every member of staff threatened with redundancy."
Download: The STV News app is Scotland's favourite and is available for iPhone from the App store and for Android from Google Play. Download it today and continue to enjoy STV News wherever you are.