Savoy traders hit out at shopping centre 'gentrification'
More than 30 business owners have penned an open letter to management over the issues.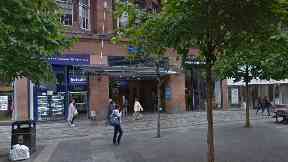 Traders at a Glasgow shopping centre have accused a new initiative of "gentrifying" the mall, resulting in established stores losing customers.
The Savoy Centre in Glasgow was redeveloped late last year, with business initiative Colab moving into the ground floor.
Colab said it aims to support and promote community, culture and cuisine with a host of new businesses.
The ground floor was given a makeover, with a number of independent stores and food stalls moving into the space in a bid to attract younger shoppers into the area.
But now more than 30 established businesses are calling for changes to support those who have been part of the Savoy for decades.
In an open letter, they wrote: "We are all deeply unhappy at, and troubled by, the changes that have been implemented as part of Colab on the ground floor of the centre.
"For us, this redevelopment has been a poorly managed, careless marketing exercise. Colab says its aim is to put the community back into the heart of the city centre, while creating an environment where businesses, existing and new, can grow and support on another.
"In reality, Colab is actively displacing a community of businesses and customers that have been based at the centre for decades - and consequently costing many people their livelihoods."
The letter claims traders who have had business units at The Savoy for up to 40 years are on the brink of being forced out.
It is claimed established businesses were forced to move upstairs because "they did not fit in with the surrounding aesthetic" of the new development, and were given less than a week's notice to relocate or leave.
The letter goes on to say that the "dire state" of the upstairs units forced business owners to refit them, investing thousands and others taking out personal loans to cover the cost.
No financial compensation has been offered according to the letter, with claims that some businesses were promised financial and physical help with the move.
In comparison, the ground-floor units have been refitted and offered rent-free to new businesses, with some Colab vendors said to be "shocked" that longer-serving traders were moved.
The businesses have also highlighted a lack of signage to help established customers locate existing stores .
One business owner quoted in the letter states: "Look if you want to kick us, at least have the decency to tell us rather than starving us out."
'Look if you want to kick us, at least have the decency to tell us rather than starving us out.'

Business owner, The Savoy Centre
In a statement, a spokesperson for the Savoy Market said: "We are 100% committed to the success and redevelopment of the Savoy Market.
"As retail across the UK continues to face challenging trading conditions it's vital that traditional shopping locations innovate and develop new strategies that drive footfall.
"This is particularly important to retailers along Sauchiehall Street, who have been particularly impacted by the recent unfortunate events nearby.
"We have already invested in a substantial makeover in a prominent portion of the market and have created a vibrant space that provides affordable retail space for Scottish creatives and independent brands.
"As we get ready to enter the next phase of the redevelopment we continue to focus on vital building updates and repairs, decoration and more signage throughout the market.
"The ethos of COLAB is all about collaboration and we have and continue to work closely with all of the markets' long-standing traders to try and ensure a smooth transition throughout the development process.
"We are still in the early stages of this journey in Glasgow and remain completely open to new ideas and ways of working together."
Download: The STV News app is Scotland's favourite and is available for iPhone from the App store and for Android from Google Play. Download it today and continue to enjoy STV News wherever you are.