Last state-funded all-girls' school 'could admit boys'
The council has launched a consultation into the future of Notre Dame High School in Glasgow.
A consultation has been launched into whether Scotland's last state-funded all girls' secondary school should be open to boys as well.
Notre Dame High School in Glasgow has only admitted girls for more than 100 years but some parents believe this should change, saying boys and girls have to learn to be together.
Just a few streets away, Notre Dame Primary school is co-educational, with boys moving on to St Thomas Aquinas while girls are given the option of attending Notre Dame.
Jill Grady, whose seven-year-old daughter attends the primary, is among those campaigning for change.
She said: "Notre Dame High School is the last single-sex state-funded school left in Scotland.
"It's well under capacity with 11% of the seats unfilled - that's 83 seats every day, in an area where all of the schools are full or overflowing.
"And to be honest, having boys and girls educated together gives them the opportunity to learn together and learn to live together."
Despite often fierce competition to get a place at local schools, only 19% of Notre Dame pupils live within the catchment area.
The remaining 80% have submitted a special request to the council for their child to attend.
The consultation has three options; the first is no change, while the other two would both involve an altered catchment area, one of them with the inclusion of boys.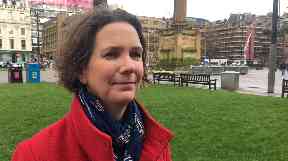 Option two would see the school remain girls only alter its catchment area to include Notre Dame Primary School, St Patrick's Primary School, St Joseph's Primary School and St Charles Primary School.
Option three would change the entry criteria for Notre Dame High School to be co-educational and change the catchment area to include Notre Dame Primary School, St Patrick's Primary School and St Joseph's Primary School. In this option, the catchment areas for St Thomas Aquinas Secondary School, St Roch's Secondary School and John Paul Academy would also change.
Michelle Watt, chair of Notre Dame's parent council, believes the school should remain girls only.
She said:"We are in an incredibly privileged position in the west end, because we have the choice of sending our children to either the co-ed secondary school, where they can transition together, or the choice of sending your daughter or girl to Notre Dame High School.
"It's been in the community for over 120 years, providing that very positive choice.
"It's making a massive contribution to the high attainment levels that are being applauded across the city, so I don't understand why it's being challenged in this way."
Glasgow Council said it is holding the consultation because of changes in pupil numbers across the city.
A spokesman said this means it must change educational provision in order to best serve the needs of pupils.
Download: The STV News app is Scotland's favourite and is available for iPhone from the App store and for Android from Google Play. Download it today and continue to enjoy STV News wherever you are.