Search for ruins of old mill buried by Kelvin riverbank
The historic site is believed to be underneath the earth along the Kelvin River walkway.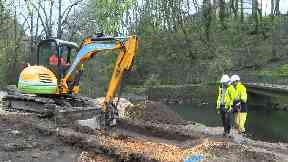 An archaeological dig is under way at an historic site by the River Kelvin.
It's hoped evidence of one of Glasgow's old flour mills, believed to have lain beneath the earth for decades, will be found.
The dig is part of investigations by Scottish Water included in a £15m project to improve the water quality of the nearby river.
Eleven locations along the river are being upgraded to help prevent waste overflow from baby wipes or rags that are wrongly flushed down toilets.
It's a major environmental project, but it means making sure the ground isn't hiding anything of great historic importance.
"We're expecting to find possibly the remains of the flour mill, its foundations and maybe even remains of some walls," says archaeologist Sam Golder.
Although its origins are unclear, the North Woodside Mill was established as a grain mill in 1765 and was also used to grind gun powder during the Napoleonic wars.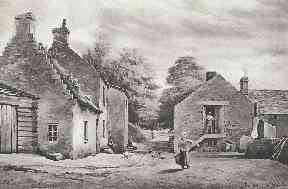 The site itself was once feuded over by two wealthy Glasgow families, and after the flour mill ceased to be of use as industry rose, a flint mill is believed to have then been built either nearby or on the same site in the middle of the nineteenth century by the owner of Verreville Pottery.
The flint mill continued to operate well into the 1950s and its kiln is still preserved.
Both mills would have been powered by the River Kelvin and in the days of old Glasgow, the miller who worked at the flour mill would have been of great importance as his business would have been a necessity to the city.
The dig team hope to unearth some of the mill's secrets from that time.
"It would be really interesting if we managed to find something of archaeological value," says Ruaridh Macgregor, from Scottish Water.
"There is a really interesting history in this part of the River Kelvin which is why we have engaged with AOC Archaeology Group to carry out the dig ahead of the project commencing.
"We have already had lots of interest from local residents keen to find out what the dig will uncover."