Parliamo Glasgow: meet the world's first Glaswegian interpreter
Following a newspaper advertisement, a 26-year-old local has been tasked with explaining Glaswegian to the world.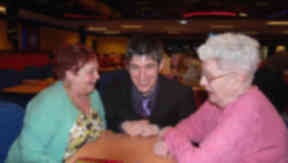 Jonathan Downie has been officially unveiled as the world's first Glaswegian interpreter.
The 26-year-old language expert was among 500 to apply when a London-based translating company advertised last year in a Scottish newspaper for specialists who could decipher the dialect.
He was recently put through his paces by engaging with colourful Glaswegians at the world's biggest bingo hall in Parkhead and at the city centre's Horse Shoe Bar. One of Jonathan's first tests came at the Mecca Bingo Hall, where he translated the tale of 60-year-old Greta Storrie, who told of a disappointing Valentine's Day dinner with her husband.
Greta began: "He took me up ra west end afore we went tae see Dancin' oan Ice at the SECC. But ah wisnae in furra posh dinner or nothin'.  The cheap skate boat me a can o' Coke and a packet o' crisps. He even moaned rat ma crisps were a pound.  When he saw ma coupon, he tried tae soften me up wi' a boax o' potato wedgies!"
Jonathan, a Msc in Translation and Conference Interpreting from Heriot Watt University in Edinburgh paused for a few moments before converting Greta's Glaswegian into English.
He said: "It seems Greta's husband asked her out to the city's West End on Sunday for the 'Dancing on Ice' extravaganza at the Scottish Exhibition and Conference Centre. There, she experienced great disappointment as the expensive meal she had been anticipating failed to materialise.
"Instead, all she received was a can of Coca Cola and a packet of crisps. When her husband saw her evident disappointment, he tried to cheer her up with a treat of a box of potato wedges."
The interpreter's new job would impress Scotland's great comic Stanley Baxter, whose Parliamo Glasgow sketch remains one of the funniest moments in television history.
Jonathan, who is originally from Glasgow but is now living in Wishaw, said: "The expression that really confuses the English is 'gie's a haun' and if you come away with 'whit' in England, they think you are 'wet'. I was thrilled to get one of the jobs.  Competition for interpreting in Scotland is really competitive."
A spokesman for Today Translations in London said the scheme was a major success. He said: "The response to the advert was very surprising and beyond that which we had anticipated.  There were 480 applications in total.
"The main qualities required were an excellent knowledge of the Glaswegian dialect/jargon, as well exceptional spoken English."