Helicopter rescue unit has busiest year on record
The HMS Gannet-based team responded to 447 call outs last year.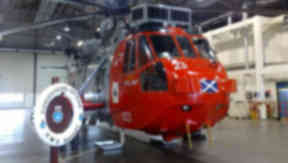 The Royal Navy have revealed its Scottish helicopter search and rescue unit has had its busiest year since records began.
The crew based at HMS Gannet in Prestwick responded to 447 call outs in 2009 - beating their previous high of 382. The unit rescued 378 people, including a 16-year-old girl who fell off her bicycle and plunged into a river, and a pensioner whose car was engulfed during flooding.
The team, which has received multiple honours, guided a stricken Cessna pilot to safety in another incident. HMS Gannet is one of eight military search and rescue bases around the UK and covers an area of around 98,000 square miles.
A plan to move the search and rescue operation 30 miles to Glasgow Airport emerged last month. Soteria Consortium, a private company named by the Ministry of Defence as the preferred bidder to provide the UK's rescue helicopters, wants to shift the base for commercial reasons.
Commanding Officer Lieutenant Commander Debdash Bhattacharya praised the "phenomenal effort" of his crew. He said: "This is an extraordinary achievement. I am immensely proud of each and every individual who is a part of the close-knit team at HMS Gannet.
"From the air crew to the engineers, weather forecasters, office staff, ground crews and support staff, absolutely everyone plays their part in ensuring that there is a search and rescue helicopter ready to respond 24 hours a day to whatever the call may be. It's a phenomenal sustained effort aimed at supporting the people of Scotland, Northern Ireland and northern England".
Lieutenant Commander Martin Ford, 46, has attended 600 call-outs in his seven years with the unit. The officer, who lives in Cornwall, was awarded an Air Force Cross for his part in the rescue mission following the Boscastle floods in 2004 and the Queen's Commendation for Bravery in the Air after assisting a dangerous rescue on Ben Nevis.
Petty Officer Marcus Wigfull, 38, who lives in Troon, has notched up 700 call-outs in his 13-year career and received the same honour after winching three people to safety from a stricken yacht in Ayrshire. Local politicians have reacted angrily to the proposed move from HMS Gannet.
The contract with Soteria is expected to be finalised over the next few months and the new service phased in from 2012. The consortium is made up of Thales UK, the Royal Bank of Scotland and helicopter operator CHC. The MoD said it had made clear in its bid that it would move the search and rescue service to Glasgow.
But a spokesman said no jobs would be lost and that HMS Gannet, as a Royal Naval air station, had a wider military role. John Scott, Conservative MSP for Ayr, described it as a "bombshell" for the area and local Labour MP Brian Donohoe said he was "speechless" at the decision.