Strathclyde University building re-opens after incident
The university's library in the city centre cleared with witnesses reporting a bomb scare.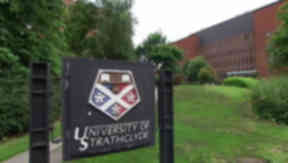 Strathclyde University's library building has re-opened after it was evacuated this morning following reports of a bomb scare.
The university's library building on the junction of Cathedral Street and Glasgow Road in the city centre was cleared from around 9.30am .
Police were called to the scene, but have so far declined to comment on the cause of the incident, with several eyewitnesses reporting that they were dealing with a bomb scare.
University authorities said the library was closed temporarily because of "an incident" but did not give any details.
Police sent sniffer dogs to the scene, but left the scene shortly after 2pm.
Students were allowed back into the building from 3pm, and staff were allowed back in a short time earlier.
Jack Mckay, 20,  a student of history and politics,  described what happened saying: "After the alarm sounded a woman came round and told us to leave the building immediately." 
Ian Young, a 21-year-old law student joked: "Normally we wouldn't mind being put off from studying but the exams are coming up."
Additional reporting by Erik Geddes.