Rangers striker Kenny Miller cleared of driving with a mobile phone
Mr Miller had been accused of driving in Glasgow city centre while using a phone.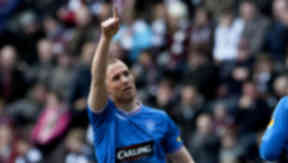 Rangers striker Kenny Miller has been cleared of using a mobile phone while driving in Glasgow city centre.
Mr Miller, 30, from Musselburgh, East Lothian, went on trial at Glasgow District Court after refusing to pay a fixed penalty notice handed out by two police officers. They flagged down his Range Rover after allegedly seeing him with mobile phone at his ear while talking and gesticulating. 
Mr Miller was taken into the back of a police vehicle and given a fixed penalty fine by the officers who claimed in court he had admitted he was on his mobile. 
He was charged with using his mobile phone in St Vincent Street, Glasgow, on June 23, last year.  The court heard that Mr Miller was asked his name and address and told the police that he played for Rangers. 
Mr Miller's lawyer Graham Mann argued that the police officers were inconsistent. One officer said there was a female passenger in Miller's car and the other said he saw no-one. 
Two police officers claimed that they saw Mr Miller, who also plays for Scotland, with his hand up to his ear as if holding a phone. However, neither could describe the phone and they never searched the car for one or asked Miller if he had one in his possession. 
The officers told the court that had seen Mr Miller for about 10 seconds before his car drove off from the junction and entered Renfield Street where they put on their blue flashing lights and stopped him.  Both agreed that there was nothing about Mr Miller's driving that had caused them any concern. 
Depute fiscal Eoin McGinty told the court: "The police had an unobstructed and clear view of the accused holding up a phone to his ear and talking and gesticulating." He said that any inconsistencies were due to the length of time since the incident and the fact it was a relatively minor matter. 
Mr Mann told the court: "We don't even have evidence there was a mobile phone in the car. The accused was deprived of his right to have the best evidence inspected at the time."