Breast Way Round: Fort William to Glasgow, the road home
After four days, the Breast Way Round bikers travel the final, emotional miles to Glasgow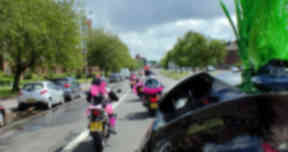 After four days of battling the elements and driving miles in testing conditions, Breast Way Round 2011 has come to an emotional end.
The charity motorbike riders arrived in Glasgow's George Square at 1pm on Monday afternoon (May 30) to a celebratory atmosphere.
Crowds lined the city centre streets to wave the women and men home after they clocked up hundreds of miles across Scotland to raise funds for Macmillan Cancer Support.
Shirley Ann Barnes started the bike ride four years ago after the charity helped one of her best friends.
She says this weekend has been extremely special.
She said: "I'm exhausted, I'm emotional but more than that I'm so proud of everybody who has taken part.
"There were parts of this event that were really quite scary, but the fact that everyone pulled together and helped each other shows that Breast Way Round is the event that it is.
"It's all down to the commitment of these women and the men that come along to help support us.
"It's just an awesome event and I'm so humbled and privileged that these people want to take part in something that's so special to me."
Check out our picture gallery from the final day of Breast Way Round
The bikers left Fort William at 9am, travelling down the A82 towards Glasgow. Their route took them through Glencoe, once again in the rain, before pulling in at Tyndrum to refuel their bikes and have some cakes, thanks to the Real Food Cafe, who also added to the charity collection.
After the first stop, the bikers carried on along the twists and turns of the A82, hugging the banks of Loch Lomond before they regrouped again at Loch Lomond Shores.
From here, with some help from Strathclyde Police, the groups of bikers started the final leg of their journey to George Square and were also accompanied by STV's Sean Batty who joined the bikers on a trike.
Sean usually greets the Breast Way Round bikers in Glasgow to judge the all important boys bra competition, but was delighted to get on the back of the trike and even sport his own, specially designed, weather themed bra.
He said: "Going to Loch Lomond, actually meeting the bikers there, and coming back with the wind in our hair was a really good experience.
"I've had so much fun - its been incredible.
"It was great when we drove through Dumbarton into Glasgow – people were waving from office windows, it was a really incredible atmosphere and it was great to be on the other side and see what it's like for them to come in."
In George Square, many motorbike dealers, friends, family and even live entertainment welcomed back the riders.Emotions also ran high one biker from each group was selected to release their memory balloons, filled with tags, memories and names of loved ones who have lost their battle against cancer.
And as the bikers, who have travelled from all over Scotland and even England to take part in the ride, and their families started to head off – Shirley Ann looked back on an incredible weekend.
She added: "When you're sponsored to do an event that's close to your heart you have to go with what's thrown at you.
"You need the support of everyone around you – the Breast Way Round couldn't be more supportive."
"It's safe, it's female and it's fantastic."
You can still donate to Breast Way Round online
*Were you at George Square? Or did you see the bikers travelling through Scotland? Email your pictures and memories to nicola.dowds@stv.tv.
IN DETAIL