Falkirk FC stadium announcer suspended after Rangers 'Sevco' comment
Falkirk's chairman said the club had received complaints from 'many' Rangers fans.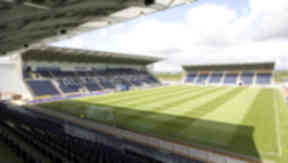 A PA announcer for Falkrik FC has been suspended from his job after referring to Rangers as the "Sevco Franchise".
The worker made the comment about the Glasgow club at half-time during Falkirk's game against Raith Rovers.
On Monday, club chairman Martin Ritchie said an investigation had been launched into the "inappropriate comments about Rangers" made by the Falkirk Stadium announcer.
The comment refers to the previous business name of the newco club, Sevco Scotland, which is the title of the Charles Green-led consortium that purchased the assets of the clubs, that will result in the liquidation of the 'oldco', formerly called The Rangers Football Club plc.
Mr Ritchie added: "We have already apologised to Rangers FC and would now like to apologise to the many Rangers supporters who have been in contact with the club.
"Falkirk FC are treating this incident very seriously and the individual concerned has been suspended from his duties, pending a full investigation by the club."