Glasgow's fallen firefighters remembered throughout the city
Citizen Firefighter stands at Central Station as a memorial for firefighters who risk their lives.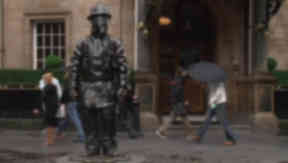 Outside Glasgow Central Station stands a bronze statue as a symbol to recognise the work of firefighters past and present.
Named the Citizen Firefighter the statue is a beacon to remember those who have risked their lives and those who have made the ultimate sacrifice in an attempt to save people from burning buildings.
Less than three months after it was unveiled on June 17 2001, Citizen Firefighter became a focal point for the people of Glasgow after the events of September 11 in New York.
The statue, designed by Kenny Hunter, became a place for many to leave flowers and tributes to the many firefighters who died in those events.
And on October 23 2001, the Scottish Fire Brigades held a ceremony of commemoration at Citizen Firefighter for those 343 members of the global family of the fire service that lost their lives while trying to save others.
Citizen Firefighter also stands as a reminder of all of the Glasgow firefighters who have died while on duty.
As part of the 40th anniversary of the Kilbirnie Street blaze a further memorial is now being made to remember these fallen heroes.
Pavement plaques commemorating the deaths of 25 firefighters between 1832-1972 have been produced and will be sited at points throughout the city.
The plaques will be revealed at the City Chambers on Saturday and will soon form a trail when they are positioned on the city's streets in the coming weeks and months.
The sites of the plaques can be viewed in the map below.

View Glasgow's fallen firefighters in a larger map
Among the 25 fallen heroes to be remembered will be fireman James Bruce.
On January 15, 1832 he fell to his death from a ladder while tackling a fire in the former Queen's Court building on the east side of Queen Street.
Fireman John Harrison was killed 25 years later on December 5, 1856 after the collapse of a burning building between Buchanan Street and Queen Street, south of the Royal Exchange building.
A fire at a chemical works on Renfield Street on January 7, 1898 saw four firemen lose their lives after the building collapsed. John Battersby, James Hastie, Charles Orr and David Smith died in the chemical explosion at W&R Hatrick & Co druggists while dampening the wreckage.
On July 2, 1921 a fire at a building on the east side of Miller Street with Argyle Street saw two firemen perish. Frederick True and James Farquharson, of the brigade's Western Division were buried and killed when the building collapsed.
A fire at Graham Square on Christmas Eve in 1927 resulted in the death of four firemen. James Conn, Harry W. M'Kellar, David Jeffrey, and Morrison Dunbar all died in the warehouse fire.
A plaque baring the names of 13 female shop assistants who died in a fire at Grafton's Store in Argyle Street will also be sited. The women died after the blaze in the four-storey building on May 4, 1949. Six of the shop assistants were teenagers. Two male managers later received the George Medal after leading five girls out of a top, fourth floor window and along a narrow ledge to safety.
Station Officer Douglas Mearns will also be remembered. He died after a fire broke out on the German cargo ship MV Pagensand at Princes Dock on December 1, 1960. It took 107 firemen using 27 jets to extinguish the blaze.
On November 16, 1967 a fire at a house in Cumbernauld claimed the lives of four children under six. Station commander William Clark also died after suffering a heart attack at the scene.
A fire at A J & S Stern's furniture factory on November 18, 1968 claimed the lives of 22 employees. They became trapped inside the former whisky bond due to barred windows and locked fire escape doors.
Sub officer Archie McLay was killed in a fire at the former STV studios on Hope Street. The fireman fell through a trapdoor in the building and was unable to activate his BA distress warning system. Another firefighter who attended the blaze, John Jamieson, went on to invent an automatic Distress Signal Unit (DSU) for firefighters which would go off if they stopped moving for 30 seconds.
A fire in a top floor flat in Deanston Drive, Shawlands killed station officer James Mathieson on March 28, 1970. The fireman collapsed and died while fighting the blaze.
Seven firemen lost their lives after a fire broke out at the Sher Brothers warehouse on Kilbirnie Street in August 25, 1972. Divisional officer Andrew Quinn, leading fireman Alastair Crofts, Iain Bermingham, Allan Finlay, William Hooper and Duncan McMillan all died while trying to rescue fireman James Rook.
A fire at a tenement on Maryhill Road on November 18, 1972 soon spread to Great Western Road. The blaze killed sub officer Adrian McGill who sacrificed his life trying to save 48-year-old Alice Mulkgrew who was trapped in her top floor flat. The firefighter died from smoke inhalation after he got Miss Mulgrew to use his breathing apparatus. Firefighters rescued Miss Mulgrew but she died soon after.