Alcohol abuse: Mapping the true cost of Scotland's £3.6bn hangover
Total accounts for impact on the health service, crime, social care and social costs says report.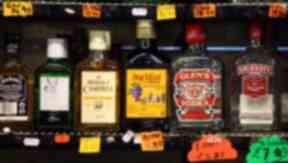 Alcohol-related harm could cost Scotland more than £3.6bn a year, new figures have revealed.
For the first time Alcohol Focus Scotland has produced a regional breakdown, revealing in which parts of Scotland the problem costs the most.
Scotland's largest council area, Glasgow City Council area tops the list with alcohol-related harm costing £364.79m in 2010-11 — the equivalent of £615 per person.
The total includes the financial impact on the health service in the city, the cost of crime, providing social care and also the loss of productive capacity caused by drink.
When other wider social costs — which Alcohol Focus Scotland concedes are hard to estimate accurately — the total rises to £1002 per person.
Meanwhile, in the neighbouring East Renfrewshire Council area, the cost of drink-related harm per person was the lowest in Scotland at £214 per person, which rises to £371 when other wider social costs are included.
In East Renfrewshire the bill for alcohol-related harm totalled £19.13m in 2010-11.
The research was conducted using the same methods as a Scottish Government study from 2010, which said the overall cost of alcohol misuse across the country was £3.6bn a year.
STV has created an interactive map based on the study. To find out the report's estimated cost of alcohol to your area simply click on each of Scotland's 32 local authorities below.
The estimated cost per person and the total cost to each local authority has been included.
Dr Evelyn Gillan, chief executive of Alcohol Focus Scotland, said: "It is clear that alcohol is costing us all too much."
The health group produced the new figures ahead of its annual licensing conference and it claims the figures show the need for local licensing boards to take action to restrict the availability of drink in their area.
Dr Gillan said: "Scotland is unique in having a licensing system which requires licensing boards to consider the protection and improvement of public health when taking decisions about licensing.
"But we need to make sure that this principle is put into practice. With the majority of alcohol sold in Scotland bought from supermarkets, and most people drinking at home, we need to shift the focus of licensing away from individual on-sales premises to managing the overall availability of alcohol.
"We hope that these figures will assist Glasgow Licensing Board in their work to regulate licensing in order to reduce both the harm caused by alcohol and the cost to the public purse."
Dr Peter Rice, chairman of Scottish Health Action on Alcohol Problems (SHAAP), said it was "very supportive of the role of licensing boards in improving public health".
He added: "Our members working in the frontline of health services know only too well how important prevention is.
"Effective regulation, particularly in the off-sales sector, is essential to reduce alcohol-related illness in Scotland."
In the Glasgow City Council area, it is estimated drink-related crime cost £152.12m in 2010-11.
Meanwhile, the impact on productive capacity was put at £116.43m, the cost for social care was £56.06m, with a further cost of £40.17m to the health service.
New Health Secretary Alex Neil said the figures "demonstrate the continuing extent of Scotland's alcohol misuse problem, which costs Scotland £3.6bn per year".
He stated: "Alcohol sales are still unacceptably high, with enough alcohol being sold for every adult to exceed weekly recommended limits for men (21 units) each and every week since at least 2000.
"In particular, sales in the off-trade have increased significantly since the mid-1990s, driven by very cheap alcohol prices, particularly in supermarkets."
But Mr Neil said the 50p per unit minimum price for drink being brought in by the Scottish Government would "almost exclusively impact on the off-trade and will raise the price of this cheaper alcohol".
The Health Secretary added: "Of course, there is no single measure which will help change Scotland's relationship with alcohol misuse.
"That is why our Alcohol Framework outlined a package of over 40 measures to reduce alcohol-related harm."
He also stated: "While it is a matter for individual licensing boards to issue licences based on applications made to them, I welcome boards making use of the powers granted in the Licensing (Scotland) 2005 Act, such as the overprovision policy, to address Scotland's troubled relationship with alcohol."