Ex-referee Jeff Winter's home raided by police over 'anti-Catholic blogs'
A man was also detained by police in London in connection with the investigation.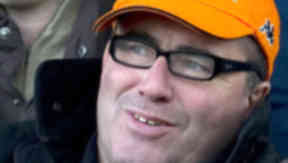 The home of former English Premiership referee Jeff Winter has been raided by police investigating anti-Catholic rants that appeared on his personal website.
Officers from Strathclyde Police searched the home in Middlesbrough under warrant on Tuesday morning.
The force's National Football Co-ordination Unit is investigating the remarks that were published on the retired match official's website following a Glasgow derby game last December.
Mr Winter, who describes himself as a Rangers fan on his Twitter page, posted a message on the social networking site at the end of last month claiming he was on holiday abroad until September 18.
A spokeswoman for Strathclyde Police said: "At around 8am on Tuesday, September 11, officers from the National Football Co-ordination Unit searched a property in Middlesbrough under warrant and seized various items of equipment.
"This is part of an ongoing inquiry in connection with alleged offensive comments posted on a website. A further operation on Tuesday resulted in a man being detained and subsequently released in London in connection with the incident. Enquiries are continuing."
The man who was detained by Strathclyde Police officers investigating the comments that appeared on Mr Winter's blog is not believed to be the former referee, who now works as a football pundit for Talksport Radio and Sky Sports, as well as performing on the after-dinner speaking circuit.
On December 28, the blog entry, posted under the name of Jeff Winter, asked whether "altar boys" would get "abused in celebration" after Celtic won the latest Old Firm game last month.
One of the posts, dated December 30, 2011, described Pope Benedict XVI as "dress wearing, Nazi, kiddy fiddling protector".
Web hosting service 123 Reg suspended the site after the posts were highlighted. In January the site re-appeared briefly before being suspended once again by 123 Reg. Shortly afterwards it reappeared after it was moved to a German web hosting service.
The former Premiership referee, who retired in 2004, denied any knowledge of the posts in an interview with the Northern Echo, claiming he had been away touring New Zealand and Australia for 39 days and "had little or no opportunity to phone, email or text as I have been at sea most of the time." Mr Winter told the newspaper he would "take some legal advice" in relation to the posts.
Celtic Football Club complained to Strathclyde Police after the articles, which were purported to be written by Mr Winter on his travels, were highlighted.
The force's national Football Co-ordination Unit was established to deal with football related violence, disorder, sectarianism and other hate crimes.