'Folk of all kinds' - Alasdair Gray on new Hillhead subway mural
Lanark author speaks on public art, the famous quote, and what is being kept under wraps at Hillhead.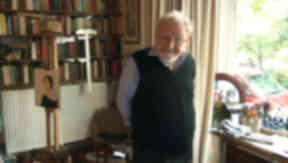 His most loved art is already part of the fabric of West End Glasgow life.
The beautiful, unfinished mural colouring the ceiling of Oran Mor has become the backdrop to hundreds of wedding photos and the conversation starter among friends.
The paintings of drinkers past and present on the wall of the Ubiquitous Chip is as legendary as some of the most expensive malts being served behind the bar.
Now, after months of anticipation, the wraps are about to be removed from Alasdair Gray's latest creation.
On Sunday his new work at Hillhead subway station will be unveiled, a piece commissioned by Strathclyde Partnership for Transport (SPT) to commemorate the modernisation of its network.
It will sit at the entrance to the station, and what it will look like has been the topic of much discussion among scholars and travellers alike, and at his study - a short stroll from the station - theGlasgow School of Art alumni explained his thoughts behind the work.
The author, artist and playwright confirmed a long held understanding that the main feature of the mural will be based on a sketch of Hillhead which appeared in his book Old Men in Love.
He said: "It is based on a view of Hillhead that I first saw when my friend Nichol Wheatley painted a mural panel to advertise the Grosvenor Café, no longer in existence, in the Hillhead area.
"I thought that would be handy and I used it in an illustration in a novel of mine. The setting (of the novel) was Hillhead, so I borrowed Nichol's view of Hillhead and did a more complicated one.
"When SPT asked me to make a mural I thought 'Hillhead station - we will do it again'. There are panels on each side - 'folk of all kinds'. 'Bonny fighters', with a slight Rangers and Celtic look to them, wise old owls, queer fishes, urban foxes. They are meant to be types of people and animals you would find almost everywhere in the world.
"I have recycled a lot of stuff from my illustrations and books and bits from other murals. I don't go for originality when I can get away without it!"
When asked about his favourite panel, he mused: "Queer fishes. I am such a respectable, colourless individual myself I have a certain sympathy for outsiders."
SPT hope Gray's mural will soon become a landmark in the city, the highlight of its £287m programme to upgrade the underground network which will also see the refurbishment of Partick, Kelvinhall and Ibrox stations all in preparation for Glasgow 2014.
"The Russians of Moscow had art in their subway stations since the late 1920s," said Gray.
"There is nothing unusual about it. London's underground system - the Scottish artist (Eduardo) Paolozzi, I forget how many years his decoration in one of the subway stations has been up.
"It is a novelty for Glasgow and for Scotland. I am very glad I am have been commissioned first to do it. I certainly hope I am not the last. Artists' work ought to be public. It always was in the past.
"I don't see how there can be a revival of good art that is not also public art.
"The notion that great paintings should be the private property of a few individuals, it was an innovation about three or four centuries ago, but not a very good one."
Better nation, or better world?
As part of its marketing campaign, SPT has revealed some of the panels of the mural already such as the owls and puddocks. Inside Hillhead station, where the mural will be, a large black poster around 7ft tall and 40ft wide stretched across the wall with the quote 'work as if you live in the early days of a better world'.
Fans of the nationalist Gray will know he is often associated with a quote from the Canadian author Dennis Lee, 'work as if you live in the early days of a better nation'.
It appears next to Gray's name, misspelt, on the walls of the Scottish Parliament and also in 'The Chip' and Oran Mor.
So why was it changed for the subway?
The author of Lanark, explained: "The quote won't appear on the actual mural. The quotation that is often associated with me - 'work as if you live in the early days of a better nation' - was part of a poem by Lee. I thought it was a great idea - that is what everybody should be doing.
"I started to quote it frequently and used it as a kind of motto on the covers of books I had designed. I have always attributed it to him (Lee), but people started quoting it as if I had invented it.
"It is a sentiment I thoroughly believe in.
"I want Scottish independence.
"Since I think we are going to get more of it, I think it is time to stop being narrowly nationalistic or parochial because I think the more small nations there are the better state the world will be in.
"Small independent nations are necessary for a better world. America and China, with the Westminster government backing America up to the hilt, are shaping the world we live in but I don't like the shape it is getting into nowadays.
"I think Scottish independence will be better for the world, not just Scotland."
Gray's Hillhead mural will join those in the Ubiquitous Chip and Oran Mor, making a West End 'strip' of the artist's work.
He says he is not necessarily proud of the achievement, just happy that his art exists in an area of the city he is obviously fond of and calls home.
"I am glad it exists and it has been convenient that I haven't had to go far to do it," he added.
"It has all happened in a place where I live. I might have felt quite cheery if I had had some commissions in other parts of Scotland, I wouldn't have even objected to them in England.
"I haven't finished the Oran Mor (mural). There are some quite elaborate plans for the interior of the auditorium. With Nichol's help, I am hoping to complete that within the next few years, if I'm spared."
The artist's next project, apart from the continuation of the Oran Mor work, is a tiled decoration for the Western Baths Club in Hillhead which should be completed this year.
For now, he hopes the reaction of commuters and fans to his Hillhead mural is simply "pleasure".
"There is a Kipling poem, (where) he is talking about writers. He says if a writer has anything important or true to tell the world, nobody will listen unless they find it amusing.
"If you don't entertain them, they won't look or listen."
This week, STV Glasgow celebrates Alasdair Gray before his new mural at Hillhead subway station is unveiled. Next, we will discover how it was made.