Hidden secrets unlocked in Urban Fairytale debut
Urban Fairytale theatre company's debut performance Tell Me Your Truth bares people's deepest, darkest secrets to its audience.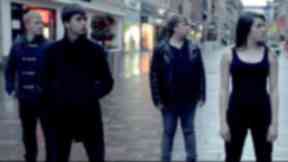 Most of us whisper our deepest secrets, on the rare occasion we are compelled to speak them out loud.
The understanding ear of a trusted friend becomes a safe sounding wall. It's cathartic to exorcise these personal demons in privacy, away from outside judgement.
Most would not choose to bear their soul in front of a crowd, let alone before a captive audience.
This is what Urban Fairytale Theatre Company's Tell Me Your Truth has asked of its performers, and the result is a powerful piece of honest, visceral theatre that strikes at the heart of issues that matter to Scottish people.
Urban Fairytale asked the public via their website to share confessions and personal anecdotes, before extracting the same secrets from their company members. They have now devised a ground-breaking piece of theatre that intertwines unspoken truths from across the country.
"We wanted to do something that had meaning to the company, rather than pick a random play," said Louise Torrance, co-creator of Urban Fairytale.
"We did a lot of devising, discussion and role-play with them to see what stood out most.
"We made it clear that we wanted to try and use experiences from the actors that they have had in past, or experiences that the public feel strongly they want to put forward."
Tell Me Your Truth is the first full theatre production devised and performed by the fledgling company, though four of its actors represented Urban Fairytale in the National Theatre of Scotland's Five Minute Theatre earlier in the year.
The cast will now take centre stage to reveal their deepest darkest secrets, as well as uncovering a few that were willingly volunteered by strangers.
Jamie McLeod, 21, who has just completed an HND in acting and performance at Reid Kerr college, plays the role of Tyler Jones – a 19-year-old boy who is in love with his male best friend but refuses to admit it.
"It's a mix of my story and other people's stories," said Jamie.
"Everyone has the experience of falling for someone they really shouldn't.
"I had a crush on someone older in high school, which I incorporated into the story, but other confessions from the website really fit well with my experience."
Tyler's familiar story of unrequited love will indubitably strike a chord amongst members of the audience, as will the other darker confessions that lurk within the text.
The production contains scenes between the play's characters, broken up with heart-felt monologues.
The cast members and crew behind Urban Fairytale are keeping the rest of the show's secrets under wraps until the curtain is raised on opening night, so as not to reveal the confessions of the public too early.
"I don't want to give too much away," said Louise of the company's debut show.
"The public have left messages anonymously and detailed things that have happened to them in their lives, how they really feel and things they wouldn't tell anybody else.
"It's given us an idea of what's happening around Scotland. We're trying to get an idea of people's concerns and use that with the actors, who very bravely one night told us some very fascinating stories about themselves.
"We wanted something unique and different, and that's what we've achieved."
Tell Me Your Truth will be performed at S.P.A.C.E Theatre, Buchanan Street on Tuesday, 25 and Wednesday, 26 September at 7pm and 9pm.
Tickets cost £8, with £6 concession tickets available. Due to the delicate nature of the subject matter, no under 14s are permitted.
For more information on Urban Fairytale and to buy tickets to Tell Me Your Truth, visit the Urban Fairytale website