Rangers demand 'clear and unambiguous' apology from BBC for Mad Men montage
BBC Scotland described the opening titles as a 'creative animation'.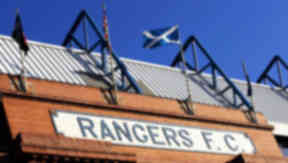 Rangers have demanded a "clear and unambiguous" apology from the BBC over its use of a Mad Men montage featuring manager Ally McCoist.
The broadcaster had responded to a complaint from the Ibrox club on Thursday, stating that the opening titles of Sportscene this week were "well intentioned" and not meant to cause offence.
Rangers had complained after they claimed they were "inundated" with phone calls and emails from supporters offended by the opening sequence, which featured McCoist falling from Ibrox stadium in homage to the titles of the popular American drama show.
Following the BBC's response, chief executive of the Glasgow club Charles Green reiterated Rangers' feelings over the "tasteless" sequence and called for the broadcaster to make an apology.
In a statement on the Rangers website he said: "It is deeply regrettable that the BBC has failed to understand the strength of feeling within the Club, and indeed among our supporters, on the Mad Men/Ally McCoist issue that has dominated the front pages of today's newspapers.
"The public response issued to the media from the BBC yesterday was clearly inadequate in attempting to resolve the issue and the response today from BBC Scotland failed to address appropriately the grave offence that has been taken over the sequence.
"The club requests a clear and unambiguous public apology be issued as a matter of urgency to the manager and the club in order that a line can be drawn and we can all move on and concentrate on football."
BBC Scotland has not issued a response to the latest statement over the issue of its coverage of Rangers' 2-0 win over Motherwell in the Scottish League Cup. The montage was based on the animated opening titles of Mad Men, which features a suited figure falling from an office block.
This is not the first time issues have arisen between Rangers and the broadcaster in recent times. Last year former owner of the Ibrox club Craig Whyte said he would sue the BBC over a documentary it screened that revealed he had previously been banned as a director for seven years.
His announcement of legal action has not resulted in any court hearings so far, while administrators of oldco, Duff and Phelps, also said they were consulting lawyers over launching legal action against the broadcaster after it screened another documentary, Rangers: The Men Who Sold the Jerseys, earlier this year in which allegations of a conflict of interest surrounding their appointment was aired. However, no legal action has been taken regarding the programme.
In July last year, the BBC apologised to Rangers over an "inappropriate edit" of an interview with McCoist about sectarian issues in Scottish football. The manager had initially banned the broadcaster from Ibrox stadium before the apology was issued.