Counterfeit fireworks that injured boys 'pose significant danger'
The bangers left a 15-year-old in Motherwell with serious injuries.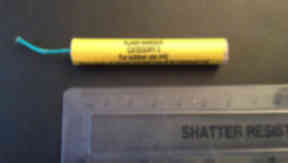 Fireworks that left a teenager with serious injuries after they exploded in his hand are counterfeit, it has been revealed.
The 15-year-old was injured after the banger exploded in Motherwell, North Lanarkshire.
A 12-year-old boy also suffered superficial burns after one lighting one of the fake fireworks in Carfin, near Motherwell, on Thursday.
Strathclyde Police confirmed on Friday that the bangers involved in the two incidents were counterfeit and "pose a significant danger to those using them".
Superintendent John McTear said the force is asking people with the fireworks to hand them in so they can be disposed of without any danger to the public.
The police have released images of the bangers and are asking members of the public who recognised them to let them know where they can be purchased.
Superintendent McTear added: "We are asking members of the public to look at the images of these 'bangers' we have distributed. Do you recognise them, have you bought any recently? Our primary role is keeping people safe, and as such we are still trying to investigate where these came from.
"We are trying to find out where in Strathclyde they can be bought, and would urge anyone who may have purchased them or have them in their possession to contact police who will dispose of these safely. Please do not put them in your normal household bin as they could be picked up by a young child and could cause them significant injuries."
Anyone with information is asked to contact the police on 0141 532 2000.