From Star Wars to South Lanarkshire: Robots from the movies come to town
The exhibition at the Low Parks museum features R2-D2, the robot head from I Robot and a Sontaran from Doctor Who.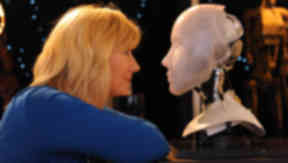 For millions of sci-fi fans, characters such as Star Wars' R2-D2, Sontaran from Doctor Who and the NS-5 robot from I Robot is something which only lived on screen.
Now a three-month exhibition at Hamilton's Low Parks Museum will give fans young and old the chance to get up close with some of film and television's artificial intelligence.
The robot exhibition allows visitors to see the detail that goes into creating some of the most well-known and loved characters.
Many of the familiar robots on display, such as Star Wars' R2-D2, the NS-5 robot head, also known as Sonny, from I Robot and a one of Doctor Who's feared opponents, the Sontaran, were made as back-up props for filming or used during the promotion of the films they featured in.
The full-size Robocop costume is the exhibition's most valuable display, worth around £4000, with a battle droid from the most recent Star Wars film not far behind, being valued just under £3000.
For exhibition development officer Linda Barrett, the display is the chance to change people's opinion of the museum.
She said: "We brought in this exhibition as we were looking for something that would draw in people.
"We wanted something that would change people's opinions of the museum. People might think a museum can be quite dull but this is something that really captures the imagination."
The robot exhibition will run at the Low Parks Museum until January 31 and is open daily from 10am to 5pm, except for Sundays when it opens from noon to 5pm.