Rangers bidder Bill Miller's advisor warns club could go bust again
Advisor to former Rangers bidder believes club is not a 'turnaround opportunity'.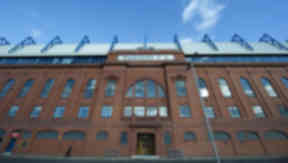 A financial advisor to former Rangers bidder Bill Miller has warned that the club could face financial meltdown again.
Jon Pritchett, CEO of Chicago based sports investment firm Club 9 Sports, was involved in American Mr Miller's attempt to takeover Rangers, which administrators Duff and Phelps previously named as the preferred offer for the Ibrox club.
In an article for international business magazine Forbes, Mr Pritchett stated he could not see how Rangers could be regarded as a possible "turnaround" opportunity.
He also believes the Sevco consortium led by Charles Green, which bought the club's assets in a £5.5m deal before transferring them to a newco, will need to oversee a programme of downsizing and cutbacks to avoid plunging into insolvency again.
Mr Pritchett wrote: "Without the ability to significantly reduce overhead expenses, a commercially reasonable turnaround of Rangers FC was not feasible. From Bill Miller's perspective, there appeared no possible return on his considerable investment. I agreed with his assessment.
"Upon full inspection, Rangers was not a 'turnaround' opportunity. It was (and is) an opportunity for someone with great wealth and a love of football and/or Scotland to give away tens and tens of millions of pounds. Unless some major, systemic changes occur within the current configuration of UK and European football leagues, I don't think the Rangers math works."
Mr Miller had submitted the largest bid for Rangers with a deal worth £11.2m, which the administrators stated was the "only deliverable bid on the table" after seeking expressions of interest in the club. The owner of Tennessee tow-truck firm Miller Industries withdrew his bid days later stating that the information provided to his team was "more optimistic than reality", while he also highlighted a hostile reaction among some of the Rangers support, who unfurled a banner against him during a game at Ibrox.
'£10m loss'
In the magazine article, Mr Pritchett states that the "fan sentiment" was not the key issue behind the collapse of Mr Miller's bid, but the "numbers just didn't add up." He added: "Revenues were in a free fall. The most important revenue stream to Rangers, season tickets, was projected to be down by 20%. The club expected to lose nearly £10m in 2012/13.
"Cash-flow from sponsorships was minimal and the administrators had already pulled out the cash from player wages, kit sponsorship and future payments due the club from the sale of several players. Worse, because the administrators had to make a deal to cut player wages to keep the club afloat, the new owner of Rangers would lose a substantial portion of asset value."
He stated that as a result of the newco switch allowing players to opt out of transferring their contracts to Sevco Scotland Ltd (now The Rangers Football Club Limited), the purchasers lost out on between £9m to £15m in "player asset value". He stated: "So, in exchange for a savings of £3m this spring, Rangers lost three to five times that."
Mr Pritchett also wrote that 70% of management and executive contracts at the club were protected from "reduction or elimination". He said Rangers must "cut the fat from every department and rebuild an organisation that values every pound and demands a return on any and all expenses." In the article published on Tuesday, the sports firm CEO warned that "until bold action is taken, the future for Rangers remains in serious jeopardy".
Since the asset sale in June, which consigned oldco Rangers to liquidation, Mr Green's group was initially the target of a protest from fans outside Ibrox, over concerns about the future of the club.
However, following meetings with fans groups, as well as criticising the footballing authorities over its handling of the newco's application to enter the Scottish Premier League, Mr Green's consortium has seen 36,000 Ibrox season tickets sold for the Third Division club this year.
In presentations to fans' groups recently, Mr Green stated that the wage bill for the club was down from £30m last year to £6m, while Sevco has overseen the ending of Rangers' merchandising contract with JJB Sports, taking the operation back in-house.
The owners have instructed Capita Registrars to carry out a share issue in the newco, which they expect to take place this month. Mr Green had previously stated in an interview with the club's official online TV channel that his consortium would make money through a share issue.
IN DETAIL
Jon Pritchett's article for Forbes magazine: What Can We Learn From the Financial Meltdown of Glasgow Rangers FC?