Urdu poetry night organised as part of mental health festival
The evening features poems from the Mughal period, with performers dressing up to raise awareness of mental health.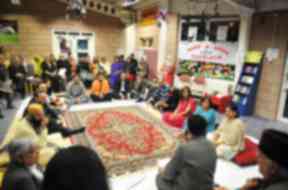 An evening of Urdu poetry - or Mushaira - is being held at Bellshill library on Friday, October 12 as part of The Scottish Mental Health Arts & Film Festival.
The night at Bellshill Cultural Centre is being held in conjunction with Encounters 2012 and Bazm–e–Urdu Scotland.
Performers will be dressing up and recreating the Mughal period, in which emperors and the royal courts had poet laureates orgainise soirees to perform their works, which will be recited on the night.
Anila Ansari, a health improvement practitioner at Motherwell Health Centre, is helping organise the event. She said: "Poetry is a great tool to help improve mental health, even through loss, displacement and home sickness.
"Expressing your feelings through poetry can help you and make you feel happy."
As an English Literature student, Anila has a keen interest in poetry and this is the third year the event has run.
Professor Tariq Muneer, Chairman of the Scottish Urdu Society, said: "For two years we have supported the mental health week and this year I feel we will have an even better show.
"Part of it will be reenacted like a drama and part of it will be a poetry session. We try to translate the Urdu poems so that everyone can enjoy them."
Entry to the evening is free, and it runs from 6.30pm to 9pm at Bellshill Cultural Centre, John Street, ML4 1RJ. For more information call 01698 346 770 or 01698 242 649.
For more information on mental health, visit the STV Health Centre, brought to you by NHS inform.