Tribute to wife of Scots explorer David Livingstone in the works
Author Julie Davidson outlines plans to create African visitor centre in memory of David Livingstone's wife, Mary.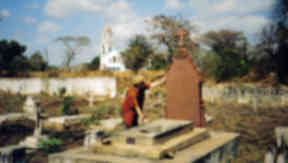 A Motherwell-born travel writer has outlined plans to build a memorial and visitor centre in tribute to the wife of one of Scotland's most famous explorers.
Journalist Julie Davidson wants to honour Mary Livingstone, the wife of 19th century missionary David Livingstone, near her grave on the banks of the Zambezi river in Mozambique.
Mary travelled with her husband across Africa, but while Mr Livingstone's body rests in Westminster Abbey, she rests in a neglected and forgotten space.
Now, after a 3000 mile trek following in the footsteps of the couple, she wants her life to be properly remembered.
"There is not much written about Mary Livingstone, or her maiden name Mary Moffat," said Julie, who has just penned a new book, Looking for Mrs Livingstone.
"I decided to do a biography on her on the back of my travel writing, by visiting the key landmarks of her life - where she was born, where she grew up and where she died.
"I was very moved when I saw her grave. I had been reading about it and trying to get there for several years.
"Livingstone has a tomb in Westminster Abbey and his courageous and stoical wife has a grave in what was, for a long time, a war-torn area.
"It is one of my ambitions to establish a very modest visitor centre in the church at Chupanga, where she died, with the cooperation of the mission."
Born in southern Africa to a celebrated missionary couple, Mary Livingstone played an important role in the life of Blantyre's most famous son, and her own achievements as a traveller and teacher were notable.
She was the first white woman to cross the Kalahari desert. She did this feat twice, and was pregnant during the treks.
Throughout her life, she travelled around Africa and the UK and spent some time in Glasgow and at the home of David Livingstone's parents in Hamilton.
The mother of six died in 1862 of acute malaria, aged 41.
Looking for Mrs Livingstone is not only a book about Mary Livingstone, her relationship with the famous explorer and missionary, life in Victorian Africa, and Mary's own reservations about missionary work and her loss of faith.
It is a travel companion of a continent Julie has travelled around and loved for over 20 years.
Julie said: "The mission that was around the grave was destroyed during a civil war.
"There were land mines all around, the graves and the bush around them became overgrown very quickly.
"It has not been restored, but the Catholic priests at the mission do their best to maintain the grave and the cemetery is still used.
"It needs a bit of money spent on it to protect and preserve it.
"There would be display boards with information about Mary Livingstone and her grave would be properly maintained."
The book argues Livingstone was devoted to his wife but his work as an explorer and missionary took precedence with the couple only spending seven of their 18 years of marriage in each other's company.
Julie added: "I think it is obvious she was ill-treated. He adored his wife, but he was obsessed and she was neglected.
"She doesn't have a voice, and it was my ambition to give Mary Livingstone a bit of a voice."
Looking for Mrs Livingstone by Julie Davidson, published by Saint Andrew Press, is now available to buy.