'Mrs Livingstone, I presume?' The life of an explorer's forgotten wife
Author Julie Davidson followed in the footsteps of Mary Livingstone, the wife of missionary David.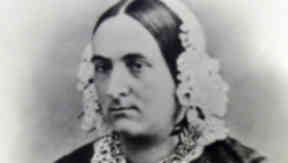 "She died as a result of his adventures," said Julie Davidson. "She is a woman who was not only neglected by her husband, but neglected by history."
This stark summary of the life of Mary Livingstone by the biographer reveals how Davidson wants people to reassess the legacy of one of Scotland's most famous sons, explorer and missionary David Livingstone.
In her new book Looking For Mrs Livingstone, Julie examines the role of the explorer's wife in his adventures and how his passion for travel and spreading the word of God came at a cost to his family.
"I read what many people consider to be the definitive biography on David Livingstone by Tim Jeal," said the author, who was born in Motherwell and now lives in Edinburgh.
"As I read it, I got more and more incensed by the life his wife was required to lead, and the neglect of her.
"He (Livingstone) adored his wife, but was so driven and obsessed with exploration that she was neglected as were his children.
"I feel for Mary as a woman, rather than a martyr of the Christian mission in Africa. There is a feminist theme running through the book, without banging any drums.
"I think it is obvious she will ill-treated."
Born in 1821 in southern Africa, Mary's life has been overshadowed by her husband's.
From her own African travels over the years, Julie realised Mary's family - the Moffats - was just as well known in the continent as Livingstone is.
Mary's parents were the celebrated missionary Robert Moffat and his wife Mary Smith, and her nephew was Howard Unwin Moffat who went on to serve as the premier of Southern Rhodesia - modern day Zimbabwe - in the late 1920s.
Mary's parents established the Kuruman missionary station, the most remote in southern Africa, in 1825. By 1839, Mary's father was celebrated for his achievements at the site and lectured across the UK, inspiring a certain David Livingstone to travel to Africa.
The couple married in 1845 but only spent seven of their 18 years together in the company of one another.
In 1850, Mary became the first white woman to cross the Kalahari desert. She was pregnant at the time.
Shortly after the journey, which she completed with her three children and husband, the couple's fourth child Elizabeth was born. Mary suffered a stroke, and the child died a few weeks later.
The following year, she crossed the desert for a second time. Again, she was pregnant. Her fifth child was born shortly after the journey.
The author commented: "The three children who travelled with her on the two treks were all aged under six. They got malaria and high fever. The whole thing was an ordeal, what he put his wife and children through.
"There was a wonderful man called William Cotton Oswell, who knew the Livingstones very well. Cotton travelled with them twice across the Kalahari.
"He had a huge admiration for Mary Livingstone's courage. I also think her intelligence was underestimated, partly because she left very few letters and never wrote any journals.
"There is strong suspicion that some of her letters were burned as it contained rather embarrassing material that did not sit well with the myth that Livingstone became."
Between 1851 and 56, while Livingstone explored Africa and become a national hero after becoming the first European to see - then rename - the Victoria Falls, Mary moved around the UK with rumours of a dependency on alcohol and a loss of faith following her.
By 1861, she was in Glasgow and questioning the role of missionary work. Mary was starting to consider the world of science and, the author contends, could have even been influenced by the theories of naturalist Charles Darwin.
News of the criticisms reach her husband, and he sent for her.
She was reunited with Livingstone in 1862. Three months later, the mother of six died in Chupanga, Mozambique of acute malaria. She was 41.
Looking for Mrs Livingstone is not only a book about Mary Livingstone and her relationship with Blantyre's most celebrated son. It is a personal journey for Julie, and a travel book on Africa.
Looking for Mrs Livingstone author Julie Davidson
A former journalist for The Scotsman, The Herald, The Times, The Daily Telegraph and The Guardian, Julie has worked as a travel writer for 20 years. She is married to The Herald's former editor and fellow author Harry Reid.
She was born in Motherwell and lived in Netherton, Wishaw until she was seven years old. The history of David Livingstone and Africa was of interest to her from a young age.
She said: "One of my earliest memories is being taken to the David Livingstone museum in Blantyre.
"I must have been about five at the time and being fascinated by the story, the African aspects more than the missionary aspects.
"I seem to remember a dusty old lion skin which fascinated me.
"My travels for the book were exhilarating, thrilling, and packed with experiences. I travelled 3000 miles from Malawi to Mozambique, South Africa, Botswana, and in Namibia.
"It is perfectly possible to travel 3000 miles in these countries and meet nothing but kindness and helpfulness.
"I wanted to have a positive view of Africa and it wasn't hard to do that because of my experience."
Julie travelled in Mary Livingstone's footsteps for the book on three trips between 2007 and 2009.
She was determined to discover the story of the forgotten woman who was at the explorer's side.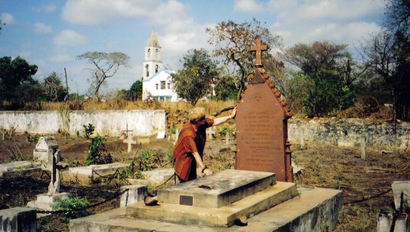 Julie Davidson at the grave of Mary Livingstone
"There was much more to Mary than has been revealed in any of the stuff that has been written about her," said Julie.
"She doesn't have a voice, and it was my ambition to give Mary Livingstone a bit of a voice."
Looking for Mrs Livingstone was officially launched this week at the Scottish Storytelling Centre in Edinburgh. Julie is set to publicise the book at a number of festivals ahead of the celebration of the bicentenary of David Livingstone's birth next year.
While the missionary's remains are in Westminster Abbey, Mary lies in a neglected grave in a war-torn area on the banks of the Zambezi River in Mozambique.
Julie has outlined plans to build a memorial and visitor centre there in tribute of Mary.
She added: "Mary should be remembered for her courage, her sacrifice, her sense of duty - not so much to God - but to her husband Livingstone, to whom she was devoted.
"In many ways this is a painful love story. He loved her and she loved him. But, his central mission overwhelmed that.
"I hope the book will encourage people to go and travel in Africa, enjoy it, and not feel threatened by it."