Scotland Tonight celebrates one year on air
Examining the major issues, Scotland Tonight is the nation's biggest interactive current affairs show.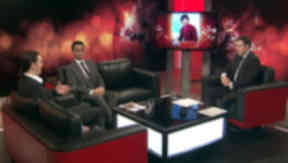 Current affairs show Scotland Tonight celebrates its first year on air today — citing its interactive relationship with the show's audience as being key to its success.
Leading politicians, campaigners and celebrities are among those to have appeared on the programme which has reached millions of viewers in its debut year.
Interaction on air and online with people living in Scotland has helped shape the debates and interviews that have been central to the show, and developed its ground-breaking reputation.
Some evidence of this can be viewed in this specially compiled Timeline to give a flavour of the interactivity involved.
The 30-minute show is produced and presented from STV's news centres in Glasgow, Edinburgh and Aberdeen with a dedicated team of journalists delivering engaging reports and features from all corners of the country. 
But the show comes to life when viewers at home get involved.
By reading out Tweets and comments from Facebook live on air, presenters John MacKay and Rona Dougall share the nation's views on each night's discussions.
Often the debate continues online into the wee small hours on the #ScotNight Twitter hashtag.
Click the arrow on the right-hand side of the box below to scroll through the past 12 months of highlights.
Scotland Tonight launched on 24 October 2011 with Donald Trump and First Minister Alex Salmond in the studio during the first week and has continued to attract high-profile guests from the world of politics, including Alistair Darling and Michael Moore, from the world of entertainment, Annie Lennox and Nicola Benedetti, as well as sports personalities such as Graeme Obree.
The show now attracts an average audience of over 100,000 each night. Its interactive element has helped to make it a real success, according to Gordon Macmillan, STV's Head of News.
"The viewing figures regularly outperform our long-established competitors and are testament to the quality of the programme as we connect with people across Scotland on the issues that matter to them," he said.
"When we launched Scotland Tonight we set out to report on the big issues but we also wanted viewers to interact with the programme and tell us what they think.
"This has proved extremely successful and Scotland Tonight will undoubtedly continue to help inform many Scots' news and current affairs in the years ahead."