Magician Lorenzo Novani to début Burn Witch Burn at haunted hotel [Video]
Magic and mystery afoot at the Cathedral House Hotel as The Magic Renz prepares a spooky spectacle.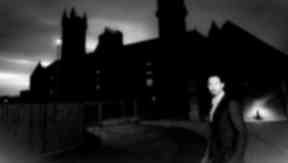 Looking for a seriously spooky way to spend Halloween?
Then look no further than Burn Witch Burn, an evening of psychological trickery, magic and mystery at one of Glasgow's most haunted locations.
Magician Lorenzo Novani will send shivers down your spine with tarot readings and historical storytelling at the Cathedral House Hotel.
For Lorenzo, also known as the Magic Renz, it is the perfect time of year to tell the tales of Glasgow's Necropolis while exploring the close relationship between the physical world and the spiritual world.
Lorenzo has been practicing magic professionally for two years after realising a lifelong dream in a most mysterious way.
He said: "Magic was something I'd been interested in since I was young but I wasn't much of a performer then, it didn't come out until my 20s.
"I was at a time in my life where I wasn't too sure what I was doing – there were a lot of options.
"I'd just graduated with a bachelor in science, my family owned a chip shop – most Scots Italians do - and I was also working as a storyteller doing historical tours in the Necropolis.
"Then I had my own experience with a tarot reader. I went for a reading out of curiosity and the final card that came up was the magician.
"For me, it was just too much of a coincidence.
"It stuck in my head. I managed to get a small slot at the Citizen's Theatre during the Scottish Opera. I would come on during the break and do a few minutes in front of an audience of a few thousand people and just went from there."
Lorenzo has been in demand on the circuit ever since and has performed magic for the likes of Paolo Nutini and Howard Marks.
The direction of Lorenzo's performances have taken a different turn of late, for a very practical reason.
He was working as a close up magician, but his approach to magic changed when he developed Raynaud's Disease, a genetic syndrome which causes numbness in the hands and feet.
Lorenzo explained: "I find it really difficult to do fancy flips and flicks with cards when it comes to the winter months. So I started focusing on things that were more to do with the mind.
"I actually realised that people responded a lot more strongly to it because it seemed more impossible than someone slipping cards in and out of their pocket. It was a subtle difference but it made a big difference to how people responded.
"With this particular show, the idea was to create a double whammy – where people were coming for an evening of psychological trickery in a place where they might also have a genuine experience."
Another element to the evening of theatre, which includes a three course meal, will be Lorenzo's assistant Fiona Alexander.
The actress is looking forward to being part of such an atmospheric evening of mystery.
Fiona said: "I've not done anything like this before but it is one of those ambitions you have when you're a little girl, to be a magician's assistant.
"This is a little classier than being sawed in half.
"I'm really hoping for a real sense of occasion and for everyone to get really involved on the night, for people to allow themselves to enjoy the magic and the mystery of the night; in this amazing venue.
"Lorenzo has done an amazing homework on the surrounding area and this part of Glasgow, there is so much that the audience won't already know about."
Burn Witch Burn will take place at the Cathedral House Hotel on Saturday (October 27) and Halloween itself, Wednesday (October 31).
Tickets, priced £24, are available by calling 07821733438.