Bowel cancer survivor uses comic strips to portray his experiences
Gordon Robertson had a 'bizarre' and 'surreal' experience with cancer and felt that comic strips were the only way to express himself.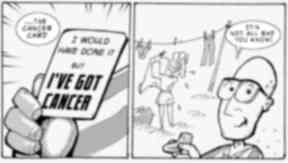 When you think of a comic book Superman, Batman and Wonder Woman may spring to mind.
Within the illustrated pages is a world where superheroes reign and fend off any evil that comes their way.
Very few, if anyone, would association comic books with cancer.
But Gordon Robertson, from Shawlands, has used the genre to portray his experience with the disease.
Being told that you have cancer immediately changes your life.
For many it brings on feelings of shock and disbelief and for others the news is devastating.
When Gordon was told over two years ago that he had bowel cancer he knew that he wanted to document his experiences.
His experience was different from many as it was almost positive, he knew that he was going to beat it.
And so he wanted to express himself in an appropriate way.
"I've always written and I looked at the idea of doing a blog or some sort of diary but there are some amazing blogs out there, some that will make your heart sore and some that will break your heart," he said.
"My experience of cancer wasn't that bad. What I experienced leaned towards the bizarre, off the wall and was all slightly surreal. If it is possible to say that somebody had a good experience of cancer then I was probably it.
"My wife suggested that I write it as a comic and when I started writing some of the experiences down in comic form it clicked."
From being diagnosed and having a colonoscopy to "playing the cancer card" Gordon wrote about his experiences in the only way that he knew how.
Being a comic book writer the genre came naturally to him.
The difficult thing for the 48-year-old was finding an artist to bring his words to life.
He said: "Working in comics I know a lot of artists, but the few people that I did approach, the subject matter seemed to put them off.
"Some thought it was offensive and somebody else didn't want to tempt fate because nobody in his family had cancer and he didn't want to be seen to be making fun of the whole thing.
"I had a few scripts and no artist to draw them."
After a chance conversation on Twitter, Gordon soon found his man in artist Martin Newman, known as Cuttlefish.
For Cuttlefish the scripts struck a chord as he had gone through germ cell cancer.
"It was just one of those moments," said Gordon.
"He really got it and he got the stuff I wanted to do, he saw the humour in it and the pathos in it. He started to draw and a couple of weeks later we put the first strip up and it's been going ever since."
Gordon's comics portray some humorous moments that he had with his treatment but they also show the difficult times.
He has had good feedback from both comic book fans and cancer charities and patients
At the moment the strips can only be viewed online but with many more still to write, publishers have shown an interest in his work.
Although they do not portray the traditional lycra-clad heroes and villians it is clear that cancer is the biggest evil that many have to face.
Bowel cancer is the third most common cancer in Scotland after lung and breast cancer. Every year, almost 4000 people are diagnosed with the disease.
Gordon is supporting the Detect Cancer Early Campaign and, being clear of the disease, the main message that he wants to highlight is for people to go and get checked if they are showing any symptoms or feel that anything might be wrong.
He said: "I spotted the signs very early on. My first wife died of breast cancer and so when I saw the signs and thought that there was something not right, there was no messing about or I'll just ignore it, I went to the doctors right away.
"I was lucky that the doctor didn't want to take any chances so they caught it incredibly quickly. I was always kind of positive, it's not nice being told that you've got cancer, but I was always really positive.
"I'm a positive person and it never occurred to me that I'd do anything other than beat it. Honestly all the way through it was 100 times worse for my wife than what it was for me.
"It's always harder on the partner, they don't know if you're really feeling okay whereas I knew I was feeling fine. But she didn't know if I was just saying that to make her feel better. It was a shock but it was as positive as it could be.
"One of the nurses did say to me that if you were going to get cancer at all then the way I had it was the way to get it.
"I was a lucky man."