Loki teaches Lourdes Secondary kids the power of rap
Rap's not all bad words and bling, as Lourdes Secondary students found out when they won the Scottish Power Rap competition and had a workshop with MC Loki.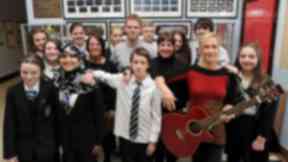 Most parents wouldn't cite rap as a good influence or past time for their children.
The explicit lyrics, misogyny and bling culture of mainstream rap doesn't inspire Grannies to buy Snoop Dogg albums as stocking-fillers. The chap bouncing his car suspension on MTV is not who your Mum wants you to idolise.
For this unfortunate public reputation, the poeticism of rap and its capacity for positive social change is sadly overlooked.
Thankfully, the pupils of Lourdes Secondary School and their rapper coach MC Loki are proof that rap is not just fast cars, bad words and bling.
After entering the ScottishPower Power Rap Competition with poems and raps about subjects important to them – such as friendship and free time - Lourdes pupils won a rap workshop with community artist Darren McGarvey aka Glasgow rapper MC Loki.
The PowerRap competition, run in conjunction with the National Theatre of Scotland, encouraged children to explore important issues through music and language.
In Darren's one-hour workshop, Lourdes pupils were coached in how to express themselves through the medium of rap, tackling tricky subject matter and learning how to communicate their feelings through verse.
"Rap offers kids an alternative education and positive means of expression," said Darren of his workshop with the children.
"Most of the young people at Lourdes had written pieces before hand, so the aim of the workshop was to have them perform what they had written.
"Others had no writing done before hand and so required more intensive support, as staring at a blank page in a classroom can be very daunting."
Darren opened the workshop by sharing some of his own feelings, to put the children at ease and encourage them to share their thoughts with the class.
The goal of the workshop was to enable young people to express themselves comfortably and to offer them an alternative means of expression within the walls of the classroom.
Drawing on his own experience of school and childhood, Darren wishes to create new opportunities for young people who perhaps feel restricted or frustrated within the education system.
He believes that rap is a medium that opens doors for young people to convey their feelings, and loved having the opportunity to share his skills with Lourdes.
"My problem in life has always been that I ask too many questions and respond negatively to not being heard," said Darren.
"I picked up this sense of worthlessness at a young age, and in many ways it was re-enforced at school. All of my work now is concerned with investigating how we bring about radical change in education, as it is the flower bed of this garden we call society.
"Rap is a good way to achieve that initial critical engagement on which a strong, meaningful relationship can be built."
Lourdes pupils were put through their paces during the intensive workshop, and their talents for writing and performance shone through in the short time allocated to them. Darren was impressed with the children's eloquence and willingness to share their feelings with their peers.
Pupils like Laura Mansley, 15, were inspired by what they learned and were given a deeper understanding of rap and the positive aspects of the medium.
"Before the competition I didn't really listen to rap music, I didn't really care about it but now I understand how to write rap and how it inspires people, I appreciate it more.
"I learned that when you're writing you should imagine yourself in the place which inspired you to write that particular piece of work. If you also apply that to rapping you can make the rap sound better ot the audience."
Laura wrote about going to a concert, inspired by the atmosphere and feelings that she feels when attending gigs in general. She focused on imagining herself at a gig in order to convey emotion in her final rap.
Her classmate Rebecca Tierney, also 15, approached the more serious subject matter of social exclusion in her rap. She focused on the idea that society encourages us to reject some of its members, and why this is done. Using her own knowledge and experience of being a teenager, she imagined what it might be like to be a young person in that situation.
"The workshop was a very rewarding experience and taught me quite a few things," said Rebecca.
"It helped me gain confidence and gave me some writing tips. It was great to have input from a professional rapper and singer.
"Before the competition, I wasn't a big fan or avid listener of rap. I liked a few raps but no artisits in particular. After the competition I gained a whole new respect for rap artists and rap itself.
"It feels quite overwhelming to have won the competition. When our class entered we never believed we could win- we didn't even think we had any rapping skills so to find out we had won was a huge surprise and I feel very grateful for this opportunity."
The Scottish Power PoweRap competition and workshop that followed were timed to coincide with the launch of the National Theatre of Scotland's production of Glasgow Girls - the story of school friends who came together to make a difference. The play runs from October 31 - November 17.
Along with their rap workshop, Lourdes pupils also get the chance to watch the production at the Citizen's Theatre, and also had the raps they wrote at the workshop filmed and recorded by NTS.