Walter Smith returns to Rangers months after failed £6m buyout bid
The former manager and retired businessman Ian Hart have been unveiled as board members.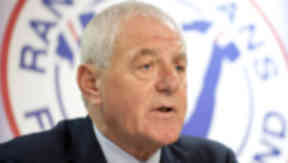 Former Rangers manager Walter Smith has joined the new regime at the club as a non-executive directors months after trying to prevent its buy out.
The Sevco Scotland group, led by chief executive Charles Green, was opposed by Smith in June who stated his group, which included businessman Jim McColl among its backers, had the club's "best interests" at heart.
On Sunday night, Rangers unveiled the former Scotland manager's place on the board, months after the £6m bid by Smith's group to buyout Sevco days after it acquired the club's assets in a £5.5m was rejected.
Mr Green and his consortium are due to put forward an initial public offering on the AIM stock exchange in London which they hope will see fans and other investors raise £20m with.
In a statement issued by the club, Smith said: "Serious constructive efforts are being made to rebuild Rangers after a very difficult period in the club's history and if I can play a part helping that process, I am willing to do so.
"Apart from being a former manager of the club, I am first and foremost a supporter and am no different from the many thousands of other Rangers fans who have shown they're willing to do what they can to ensure Rangers rises again.
"The people who purchased the club have shown over the last few months they are serious in their intentions to rebuild Rangers and I am happy, as many other fans have done, to lend my support."
Manager Ally McCoist added: "He brings tremendous experience, he has done it all and is a Rangers man through and through. His presence will be a huge benefit to the club."
Another fan of the club, Glasgow businessman Ian Hart, who had previously distanced himself from the consortium, was also unveiled as a member of the board.
Mr Hart had previously been named as a member of the Sevco group, before distancing himself from it and aligning with Smith's failed takeover bid.
He said: "The board felt there was a need to bring in people with background and experience in the West of Scotland and I am happy to play my part.
"I have been a supporter of the club and youth development programme, in particular, for a very long time and I think this is an area that will become increasingly important to all clubs in years to come."
They join the other directors of Rangers – Mr Green, finance director Brian Stockbridge and non-executive chairman Malcolm Murray on the board, while major investors Imran Ahmad, who has the post of commercial director, and sports development director Craig Mather, also influence decision-making at Ibrox.