Paedophile raped sisters and abused disabled boy while babysitting
Allan McLeod carried out the attacks in East Kilbride, South Lanarkshire over ten years.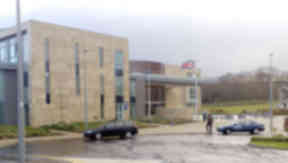 A paedophile raped two young sisters and abused a disabled boy he was babysitting over a ten-year period.
Allan McLeod sexually abused the children in East Kilbride, South Lanarkshire, while he was meant to be looking after them between 1998 and 2008.
The 43-year-old began abusing one of the girls when she was six and raped her between the ages of 14 and 15. Her sister was sexually abused from the age of eight and raped over a three-year period between the ages of 12 to 15.
Another of his victims was a disabled boy, who he abused over a two-year period between December 2002 and 2004 while he was 12 and 13.
On one occasion between June 2006 and June 2008 McLeod exposed himself to one of the girls and performed a sex act on himself in the car park of Morrisons Supermarket in East Kilbride. He also sexually abused another two girls when they were aged seven - one on a single occasion and the other twice.
Throughout his trial he insisted he was innocent and claimed his victims had made the incidents up.
At the end of the trial, temporary judge Michael O'Grady QC said McLeod had been convicted of "the most appalling crimes". He told him: "You have blighted their childhood. Even during the most distressing evidence you have shown not a flicker of emotion."
McLeod was due to be sentenced at the High Court in Livingston on Monday but, when he appeared, his advocate Ann Ogg said the defence needed more time to obtain risk assessments from two medical experts.
She told the court: "It is likely to take about three months to obtain these reports. I invite the court to defer sentence for a further three months."
Judge O'Grady QC granted her request and adjourned the case until February 8 next year at the High Court in Edinburgh. McLeod, who is on remand, is already on the sex offenders register.