Oscar Pistorius receives honorary degree at Strathclyde University
The 25-year-old nicknamed 'Blade Runner' also met patients at the National Centre for Prosthetics and Orthotics.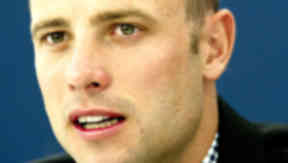 Paralympic amputee runner Oscar Pistorius has been presented an honorary degree from Strathclyde University in Glasgow.
South African Pistorius, nicknamed "Blade Runner", made history in London this year by becoming the first double leg amputee to compete at both the Olympic and Paralympic Games.
The 25-year-old, who is to compete in the 400 metre event at the Glasgow 2014 Commonwealth Games, met some of the patients and staff at the university's National Centre for Prosthetics and Orthotics before he was awarded his degree on Monday.
Pistorius said: "There are a lot of youngsters here (at the centre) that I can identify with.
"When I was young I used to go to a prosthetics centre and I spent a lot of time there - when kids are growing, their braces have to change as they put on muscle and weight.
"Some of these kids spend a lot of time here and they form great relationships with their therapists, which is quite special. I think when you see some of the kids here, they've really come to find this as a second home."
Among those he talked with was Adam Donnachie, 11, from Hamilton, South Lanarkshire, who was born with both his lower legs missing.
The youngster, who trains four times a week with the Scottish junior disability swim team, said: "It was the time of my life getting to meet him, a dream come true. He's my hero because he just never gives up. Meeting him was the best thing that's ever happened to me.
"I swim with Scotland just now, we train four times a week, and I'd like to follow in Oscar's footsteps by going to the Paralympics. It's one of my goals to make it to Rio in 2016."
An interview of Mr Pistorius will be shown on Scotland Tonight at 10.30pm on Monday.