Murderer who stabbed victim with fluorescent light dies in prison
Stuart Harris was convicted of stabbing his victim through the face with a fluorescent light tube.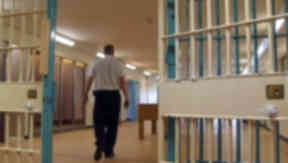 An inmate serving a life sentence for murder has died in prison.
Stuart Harris and co-accused Steven McGowan were convicted of killing Alexander Carruthers by punching him on the head, pushing him off a roof, and beating him with a range of implements including a paint tin, a bottle, and a traffic cone.
Harris admitted that he also stabbed Mr Carruthers through the face with a fluorescent light tube during the murder, which took place in a courtyard on Townhead Street in Hamilton on November 16, 2002.
Both men were further convicted of dousing their victim's body in petrol and setting it alight in an attempt to conceal evidence.
Harris was convicted of murder after a trial at the High Court in Glasgow in February 2004 and sentenced to life imprisonment with a punishment part of 17 years. That sentence was reduced to 15 years on appeal.
Harris died at HMP Shotts on Thursday, November 8 but the cause of his death is not yet known.
Strathclyde Police was informed by prison authorities and a report is being prepared for the procurator fiscal.
It is understood that a fatal accident inquiry will be held into the matter.