Stow College chairman resigns after 'unwarranted personal attack'
Kirk Ramsay resigned on Tuesday night after admitting having secretly taped MSP Michael Russell.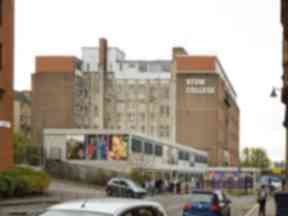 Stow College chairman Kirk Ramsay resigned on Tuesday following a "secret tape" row between himself and Education Secretary Mike Russell.
Mr Russell urged Mr Ramsay to "consider his position" at the weekend after discovering he had secretly recorded a private conversation between them.
The Education Secretary said that he "no longer has confidence" in Mr Ramsay after their discussions about controversial college sector reforms were made public.
Labour's college spokesman Neil Findlay accused Mr Russell being part of a "culture of secrecy and bullying that permeates this SNP Government" when he came out in support of the college chairman.
On Tuesday, Labour education spokesman Hugh Henry said education staff are "frightened to speak out" against Mr Russell, calling him a "bully" and citing the dispute with Mr Ramsay as evidence.
In a statement released on Tuesday evening, Mr Ramsay said he had "done nothing wrong and intend to clear my name" but his "passion and commitment" for the college was too great to "allow any perceived error on my part to be allowed to inflict damage".
He said: "I especially look forward to meeting with the Parliament's Education Committee should they decide to launch a formal enquiry, which I sincerely hope they do. I look forward to returning to make useful contributions to college education in due course."
Mr Keith McKellar, who was appointed acting chair of the college's board, issued a further statement on it's behalf saying it had accepted the resignation with "great sadness".
It added: "We accept that, in the circumstances, it is the honourable thing to do. It is typical of Kirk to put the college, its students and staff first and, by resigning, at this time he has, once again, shown his commitment to Stow College."
An Scottish Government spokesperson said: "Mr Russell's position has been clear throughout this issue. This has always been a matter for Mr Ramsay and the Board of Stow College. We respect Mr Ramsay's decision."