Family of girl missing since 1957 bid to search multiple grave
Moira Anderson is believed to have been murdered shortly after she disappeared in Coatbridge aged 11.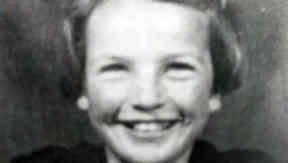 The family of a schoolgirl who is thought to have been murdered more than 50 years ago have launched a legal bid to search a grave near where she was last seen.
Moira Anderson vanished in Coatbridge in 1957, aged 11, after she was sent on an errand to a local shop.
Now her sister, backed by a charity set up in the schoolgirl's name, has instructed lawyers to apply to open a lair in the town's Old Monkland Cemetery.
Janet Hart, who now lives in Australia. told STV News: "It was just like a bad dream. You were going to waken up and everything would be all well again, but it's never been well again."
Sandra Brown, who runs the Moira Anderson Foundation, believes the girl's remains may lie in the grave of a man who died at around the same time as she disappeared.
A petition has been lodged at Airdrie Sheriff Court to open the grave, where eight people are buried. All of their families are understood to support the move.
A court hearing has been scheduled for later this month. Anyone objecting to the petition can notify the court in the meantime.