Amateur footballer jailed for breaking opponent's jaw loses appeal
Scott McQuillan, who played for Greenock side Gibshill, lashed out during a match in Cumbernauld.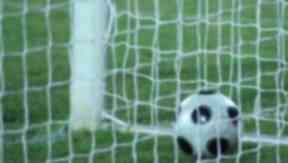 An amateur footballer who was sent to prison for breaking an opposition player's jaw has lost his bid for freedom.
Scott McQuillan punched his victim, Craig Logan, so hard that he needed to have metal plates inserted in his face and was put on a liquid diet for several weeks afterwards.
Appeal court judges heard that violence flared during the match in Cumbernauld between Eastfield Amateurs and McQuillan's side Gibshill, from Greenock.
It began when Mr Logan made a bad tackle on one of the Gibshill players, prompting a full-scale brawl involving players and spectators during which McQuillan, 24, lashed out at his 29-year-old opponent.
McQuillan, of Dempster Street, Greenock, was found guilty at Airdrie Sheriff Court of serious assault on February 26 last year.
Defence solicitor, Chris Fyffe, said the 25-month sentence imposed by Sheriff Petra Collins was excessive and alternatives to custody should have been considered.
He told the Court of Criminal Appeal: "There appears to have been a fairly bad tackle from behind made by the complainer on one of the appellant's team mates."
But Lady Paton, chairing a panel of three judges, said: "This was a vicious assault which left the victim with a badly fractured jaw requiring an operation and the insertion of metal plates."
"No tackle in a football match can justify such an attack on another player," she said.